Clinics of Dnipropetrovsk are filled with wounded ukrosilovikami
Dnepropetrovsk doctors record an increase in the number of incoming wounded Ukrainian security forces from the southeast. At the same time, employees of clinics in the city and region declare a change in the nature of the injuries. If some time ago, the vast majority of incoming servicemen were diagnosed with bullet wounds, now these are most often shrapnel wounds. Tells about it
Interfax
with reference to the doctors of Dnepropetrovsk.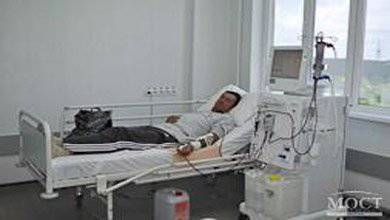 From the social network VKontakte (
Dmitry Dzygovbrodsky's page
) (text style saved):
We have just reported that this morning there is simply an incredibly huge (!) Number of ambulances and reanimation vehicles rolling around Dnepropetrovsk between the airport and Mechnikov's hospital. Sirens, howling and rustling of tires. This has never happened before (...)
It seems that tonight someone made Svidomo ukropatriots an incredibly high-quality "zugunder".
I'll be honest. I, as a citizen of Ukraine, am glad - and this is the way to deal with Svidomo punishers. They have no place on the land of New Russia. They have to pay for the deaths of innocent residents of Slavyansk, Kramatorsk, Mariupol, Odessa, Donetsk and Lugansk.
Ukrainian publications confirm that more wounded ukrosiloviks began to arrive in Dnepropetrovsk, who are transported from Donbass by aircraft. It is reported that a mobile military hospital had to be deployed at the Dnepropetrovsk airport for wounded soldiers and representatives of the so-called National Guard.
Edition "
Dnipropetrovsk news
"reports that in the last three days alone, 60 seriously wounded security officials have been brought to the city.