gone With the Wind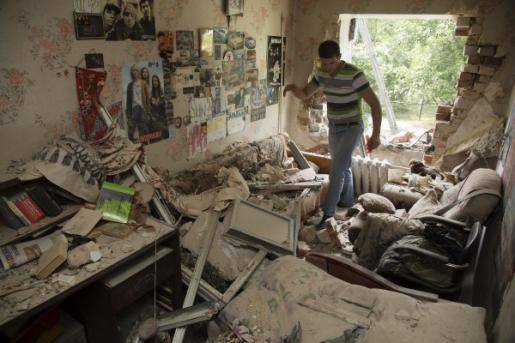 The abyss into which, consistently, with disastrous delight, through the efforts of its authorities and the Svidomo public, Ukraine is falling recklessly and suicidal, has no bottom. At least that's how it looks today, at the end of one of the worst weeks of recent times. A terrible absurd performance, a dump into which the torn corpses of Ukrainian citizens - civilians and belligerents - were thrown - revelations of soldiers and militias, mothers on both sides, holiday fireworks, air raid sirens, film festivals, hysteria, tragedies, antics, endless talk shows, disgusting faces their leaders, the opening of new nightclubs, hysterical manifestations of convulsive patriotism, squeals and screams of Maidan residents, sickening statements by generals and deputies - this is what the largest European country looks like today.
As if someone was able to get into the Middle Ages by a time machine and there to shoot a huge multi-figured horror film with torture, bonfires, slaughterhouses and bloody feudal feuds, which are headed by completely frostbitten barons who do not hide their plans to devour each other and us at the same time.
Every morning, waking up from a heavy anxious dream, you find yourself in another - in reality and much more terrible. And you ask yourself the same unbearable question - why are you killing Ukraine, patriots? What have you turned our beloved blooming land into, and most importantly - in the name of what?
All week the generals and for some reason the Minister of Foreign Affairs Klimkin swore to the people of Ukraine and the world community that the president, they say, had banned bombing, artillery and air strikes, so all the accusations are far-fetched. "
Nobody fired at civilians "
, - diplomat Klimkin broadcasts to his foreign colleagues with a blue eye, spitting on the fact that many of them have already clearly begun to understand something. Even the slowest and most hypocritical.
And exactly after every next lie of officials, bombings, artillery and air raids began. Residential areas of Lugansk, apparently, decided to simply demolish. Shells mow down schools, hospitals, housing, offices - without disassembling. Minibuses drive around the city, from which the streets and roads are bombarded with mobile mines. This is the same guerrilla movement that always arises in any civil war and certainly spreads to all large territories.
The city stands like a ghost, like a victim of the very neutron bomb, which we heard so much about back in school - when there is still a house, but people are gone. Almost all of them left, carried away by the winds of the civil war, not understanding where this inescapable horror was going and how this inescapable horror should end. Prayers are only for peace.
Now the punishers have taken up Donetsk. All the same - the corpses of children and adults, the bombing of residential areas and vegetable gardens, schools, hospitals, roads.
There was a faint light dawning - in Rio, where the final match of the World Cup will take place, as if Poroshenko had to meet with Putin and Merkel to discuss the conditions for a return to the truce and an end to the war. But no. Petr Alekseevich refused. He cannot leave his homeland, because there is a war in the Southeast. And suddenly it will be necessary to personally take the residents of Slavyansk sausages and strangle in their arms a couple of jubilant peyzanoks brought on the occasion, looking into the lenses of video cameras with sweet-evil eyes.
While Donbass is routinely drowned in blood, the country seems to live a full life. The cafes are still full of visitors, there are queues to the supermarket checkout counters, although the baskets are noticeably shallow - having bought salt, sugar and matches just in case, people take mainly flour and cereals. Many people spend their nest egg on the insulation of houses - not only is the belt tightening ahead, but also the prospect of getting colder in their own apartments.
This hardly worries the Ukrainian generals, who are massively becoming dollar millionaires in this war ...
The education community continues to actively denounce the occupier-Russia, as the concept of grant projects dictates, but it suddenly turns out that the main lover of the song about Putin continues to feed Muscovites with chocolate and, moreover, intends to dramatically increase production at its factory in Lipetsk. Housing and Utilities Minister Groisman, meanwhile, announces that Ukraine intends to purchase several billion cubic meters of gas from Russia, and he does not see why this would be impossible. Against this background, pathetic hamsters running around the shops and frightening customers with moronic promotions
"Don't buy Russian, don't feed a Moskal"
, already look perfect idiots, despite the obligatory patriotic yellow-blue plumage and cocky placards in their hands.
In the feverish total psychosis of ostentatious patriotism, the statement of the president, who taught his eldest, they say, at Eton, that it's enough to spend our Ukrainian money on a science that no one needs, was somehow unnoticed, but that, on the contrary, everything should be sent to the army. The habit of Ukrainians to live in total schizophrenia, which was quickly formed thanks to the Maidan, made it possible to completely ignore the seemingly obvious mental dissociation of the speaker - after all, Poroshenko himself announced on the same days that our army is already the most combat-ready and equipped in the world, why then send there additional funding? However, the Institute of Ukrainian Studies will be created on a priority basis - apparently, as a unit of the Ukrainian armed forces.
Despite the prospect of massive unemployment among our scientists, the intelligentsia continues to loudly welcome the achievements of the Maidan. Apparently, Poroshenko is right - people with brains of this quality really have nothing to do in science, and science itself is a corrupt girl of the world bourgeoisie. Ahead of us surely awaits a sharp reduction of universities and our famous students, who galloped for half a year screaming "it is also impossible".
It's not a pity for them either - anyway, after our embroidery, a significant part of the holders of diplomas sells mobile phones and even distributes advertisements near the metro, frightening passers-by with an annoying loud surzhik.
The IMF does not want to give money, Arseniy Petrovich, they say, has resigned. After his resignation, the main thing for him is to have time to cross the state border. However, there is no staff shortage in the country, and if Lyashko was able to take third place in the presidential elections, then candidates for the miserable posts of ministers can be taken from any Maidan hundred.
Yes, you yourself see these geniuses of management and the Prometheus of self-sacrifice - Sheremet, Nischuk, Shvaika, Geleta, Bulatov. Yes, Bulatov. There are a few lines about him separately, perhaps, for this is not just a minister. This is a young growth of the Ukrainian intelligentsia, a selfless fighter against corruption and the dark deeds of the past government; this is an example of how the Maidan opened unprecedented social lifts for young people. Finally, this is a new level of management and selfless service to the motherland.
http://www.youtube.com/watch?feature=player_embedded&v=S-NCLFVMHn8
I am watching a video. Walkers came to Minister Bulatov to beat them with their foreheads - they say, the health improvement of the Chernobyl children this year is shitty as never before. Although, it would seem, a brave new world with transparency of procedures and effective management should have come. Minister Bulatov, for nothing that behind the back is the train of the plundered auto-Maidan common fund, the Dominican holiday during the Maidan confrontation, a piece of jewelry cut off an ear, the stupidest but cynical lie about the Russian special forces, as well as a series of newest corruption scandals, described in detail and with relish in the media today , imposing, arrogant and impudent like a six from the inner circle of some godfather. Sits sideways, speaks through his lip, on a wild bureaucratic volapyuk, devoid of minimal meaning, but terribly pretentious. Dissatisfied with the cameras - the same Bulatov, who unceremoniously and gloatingly climbed into other people's homes under video recording, breaking fences and gates.
First, the minister announces that the problem is
not shipped
and makes it clear that he does not intend to dive, because ... yes, just PNKh. Then he threatens the public with a showdown, because the slaves are not modest enough and allowed themselves to ask uncomfortable questions. Then he puffs out his already lumpy-fat cheeks, then stupidly lies, then practically drives the walkers out. They babble in response that, they say, this has never happened before, which further annoys the sloppy boorish gentleman. A curtain. The audience is over. Chernobyl kids? No, not shipped.
This new democratic style of leadership, apparently, is fully consistent with European standards, because no one in the ministry pickets, including the strict and principled Maidan activists who gave birth to Bulatov and did not stray from shame. This is in power - is it worth all the sacrifices?
However, the Maidanites are not up to Bulatov. The most stubborn continue to insist on their right to further spud dill in the center of Kiev, collect donations and pose for leisure tourists in bulletproof vests. They are trying to gather for some kind of interpretation, and even in the Ukrainian House, they loudly shout about the plans and the upcoming struggle, but the director of this house clearly points them to the door. The guys do not understand - their role in the play has been played. Now they are marginalized and homeless, they are threatened with criminal cases for the seizure of administrative buildings, and suddenly it even turns out that they want to set fire to the mayor's office, but in general, drugs were brewed in full swing on the Maidan - yes, yes, even in those stormy days of the people's spurt. Moreover, there were rapes and robberies. And someone should be happy that at least he was not locked up in a pre-trial detention center. Yarema supit stern eyebrows.
YouTube is full of a variety of videos, but the latest trend is a variety of insights and revelations. Participants of the punitive operation suddenly tell how their comrades killed civilians and behaved like sadists, commanders by Christ the God urge mothers to take their children from the battlefields, because they are just cannon fodder without protective equipment and even without food. All this is scary, and somewhere it is a pity for these guys, because the same fathers-commanders cheated them, then, they say, there have never been any civilians in this Mordor, in this bandit Donbass, but only separatists, terrorists and enemies of the people, so that mow them fearlessly, as Irina Farion and other MPs teach you, who, they say, have sent their own draft-age children to less extravagant countries - to get bored in the quiet of prosperous Europe and the islands.
The topic of pity was generally loud in the past week. At first, lonely voices pitied the deceased Shevardnadze, and on Saturday announced the death of Novodvorskaya. The standard headline in the Ukrainian media said that the fighter for the independence of Ukraine passed away. And away we go. Soul, heart, conscience. An unyielding warrior for ideals. Uncompromising principled oppositionist. Comic old woman. A cool little aunt who brought to the point of absurdity what the more cunningly crafted liberals gave out more or less covertly and cunningly. The people quarreled on this too. Some insisted on the incredible valor of the fearless Valeria Ilyinichna, who for years begged for a couple of high-profile arrests in the dungeons of the bloody gebny, but never received an expensive gift, no matter how vigorous her speeches about the hated totalitarian Mordor and his tyrant were. She frightened, but the authorities were not afraid. And even after her death, Putin expressed condolences to those close to her, what could be more humiliating?
Others were reasonably interested in - could the comicality of this ugly aunt be an excuse for her hatred - albeit uncompromising, albeit consistent and spherical in a vacuum - to her own country? An excuse for her indulgence to the most rabid Nazism, her Herostratic complexes?
Russophobia Novodvorskaya will forever remain a guiding star and a standard from the Chamber of Weights and Measures for our provincial amateurs - Valeria Ilyinichna, in contrast to them, was fluent in the word and was sophisticated in journalism. Although if you read her texts, not seeing an elderly, poorly dressed virgin in front of you, but in pure form, you understand, of course, what burning hatred a person has left for another world, where, in her own words, he intends to arrange a showdown with God ...
However, we also have our own bulk of hatred. Everything is permeated with it - issues
News
, talk shows, political showdowns on benches and in trolleybuses, dialogues between relatives who have different views on Donbass and Lviv. Ballot boxes for denunciations were installed in Kramatorsk and Slavyansk. Neighbors and colleagues can knock on separatists anonymously, even if it is their brothers and sisters. And they are already knocking.
Gerasimyuk's promises about battalions of information war did not become an empty phrase. Slavyansk is being worked out in full - each delivered loaf of bread and sausage gives 1000% of PR-navar. No one will let the inhabitants of the city just eat bread and sausages, who have suffered from universal horror, who have been sitting in basements for weeks without light and water - it is important to show the world the insignificance of these non-people, these filthy quilted jackets who humiliatingly now kiss the hands of the Ukrainian military in the lenses of video cameras. It is not enough to kill, it is imperative to humiliate.
"What is the point of catching a Russian drunkard who in slippers got out for free sausages, shielding the masterminds?"
Donbass will not be helped by elections, negotiations, jobs and subventions until the sources of funding for the separatists are rooted out, says Verkhovna Rada deputy Lesya Orobets, a mother of two children, a praiser of Odessa kebabs and Luhansk residents killed by air conditioning.
But you haven't read the journalist Loiko yet ... However, it is easy to find his impressions of Slavyansk on the Web. The intellectual is dissatisfied with the small destruction of buildings and the unconvincing number of deaths, as well as the complete lack of glamor in the "soviet cattle on the dirty streets of redneck hell" ...
Goebbels - to cry.