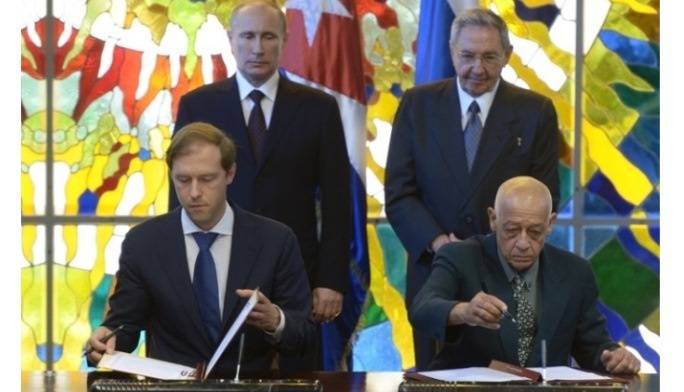 In order to deepen Russian-Cuban cooperation in the field of industry, the heads of the relevant ministries of the two countries developed a strategy and main areas of cooperation in priority sectors. The implementation of the agreements will contribute to an increase in commodity turnover between Russia and Cuba and will give new impetus to the partnership relations of friendly states.
Denis Manturov, Minister of Industry and Trade, Co-Chairman of the Russian-Cuban Intergovernmental Commission on Trade, Economic and Scientific-Technical Cooperation, and El Salvador Pardo Cruz, Head of the Ministry of Industry of the Republic of Cuba, signed a Memorandum of Understanding in the field of industry. The agreement was signed during the visit of Russian President Vladimir Putin to Cuba.
The priority areas of cooperation were metallurgy, chemical and light industry, as well as transport and special engineering. The memorandum was drafted with the participation of Cuban Council of Ministers Vice President Ricardo Cabrisas.
The memorandum involves the participation of Russian companies in the modernization of pulp and paper mills in different cities of Cuba and the Jose Marti metallurgical plant in Havana, the organization in the country of assembly plants of spare parts for Russian-made motor vehicles, and the supply of mineral fertilizers for the agricultural industry.
"Today, in the presence of the leaders of the two countries, a number of bilateral documents have been signed, including a Memorandum of Understanding between the Ministry of Industry and Trade and the Ministry of Industry of Cuba. This important document opens up new opportunities for deepening Russian-Cuban cooperation in the field of industry, said the Minister of Industry and Trade Denis Manturov. "The adopted memorandum will make it possible to specify those areas in which active collaboration is already underway, as well as expand the range of interaction between our countries with new promising projects in priority sectors."
In addition, the parties agreed to continue deliveries under long-term contracts
aviation
machinery, as well as weaving equipment of Russian production. In particular, by the end of 2014, obligations will be fulfilled for the supply of three An-158 aircraft to Cuba.
Help
According to the Federal Customs Service, in 2013, the trade turnover between Russia and Cuba amounted to 185,1 million dollars.
In the structure of Russian exports to Cuba at the end of last year, the bulk of deliveries accounted for machinery, equipment and vehicles (74,8%) and chemical products (12,5%). The basis of imports were food products and agricultural raw materials (93,4%).
In terms of value, for 2013 a year compared with 2012, the largest increase in Russian exports to Cuba was recorded for the following product groups: railway rolling stock and its parts (increase 8,3 times), wood and products from it (4,2 times), ferrous metals ( in 3,2 times), textiles (in 2 times).