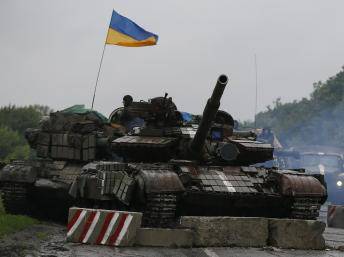 On the outskirts of Lugansk, an attack on the militia began about 70
tanks
, said the Minister of Defense of the Donetsk People's Republic Igor Strelkov.
"In Lugansk (on its outskirts) heavy fighting. Much is unclear, but it is confirmed that the enemy threw into battle about 70 tanks as part of two compact armored groups. There is still unconfirmed information about the landing of enemy special forces directly in the city from helicopters, "his words are quoted on the page" Reports from Igor Ivanovich Strelkov "on the VKontakte social network.
"We have artillery fights along the front, the enemy pulls up a lot of armored vehicles, artillery and helicopters. From the south and from the west are columns, "- said in a statement.
"I also inform you that the icorpus website is" natural ", and its copy with the letter k is a fake," said Strelkov.
Recall, a column of Ukrainian military fell on Friday under fire MLRS "Grad" militia. Even according to official Ukrainian data, about two dozen servicemen died, and according to unofficial data more than 50. The number of wounded, according to all sources, exceeds one hundred.
On Sunday, the militia reported that the captured Su-25 attack aircraft struck at Ukrainian troops.
Since mid-April, Kiev authorities have been conducting a "special operation" in the east of Ukraine to suppress the protest movement in Donbass. Security forces actively use heavy artillery and combat
Aviation
. Numerous civilian casualties and the destruction of residential buildings and infrastructure are reported.