The 30 man-portable Verba anti-aircraft missile systems came into service with the motorized rifle compound of the Eastern Military District.
Press service BBO
reports that the military personnel of this compound stationed on the territory of the Khabarovsk Territory, from Monday (July 14, 2014) will begin intensive training sessions on the operation of the latest MANPADS.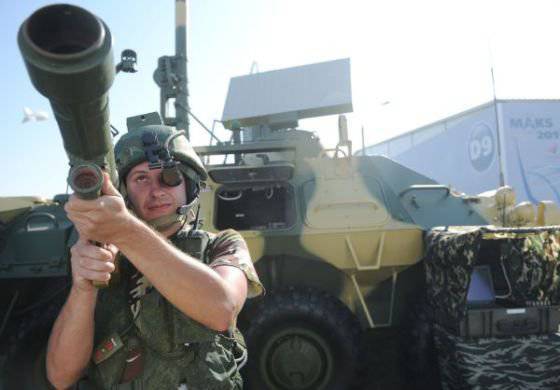 In September, the military units of the SBR will be attracted to the large-scale Vostok-2014 exercises.
Until December of this year, the plans of the Ministry of Defense include the delivery of several dozens of "Verba" MANPADS to the units of Primorsky Krai.
On the technical and combat characteristics of the newest portable Verba anti-aircraft missile system:
The 9K333 complex Verba uses the 9М336 rocket with an optical three-band homing head. Target hit range: from 0,5 to 6,4 km. The height of the lesion is up to 4,5 km. Target speed - up to 500 m / s. The mass of the missile warhead is about 1,5 kg. "Willow" significantly exceeds the Igla MANPADS.
The first tests were carried out in 2011 year at the site in the city of Yeisk. Serial production of missiles and complexes was established in 2012 year. The first deliveries to the units of the Armed Forces of the Russian Federation took place in May 2014 of the year - to the anti-aircraft regiment of the 98 th division of the airborne forces in the Ivanovo region.