In the area of ​​Dyakovo (Luhansk People's Republic), a convoy of Ukrainian security officials was ambushed. Militias are shelling the Ukrainian military from several points. The battle unfolded in close proximity to the border with the Russian Federation. Reports about it
RIA News
.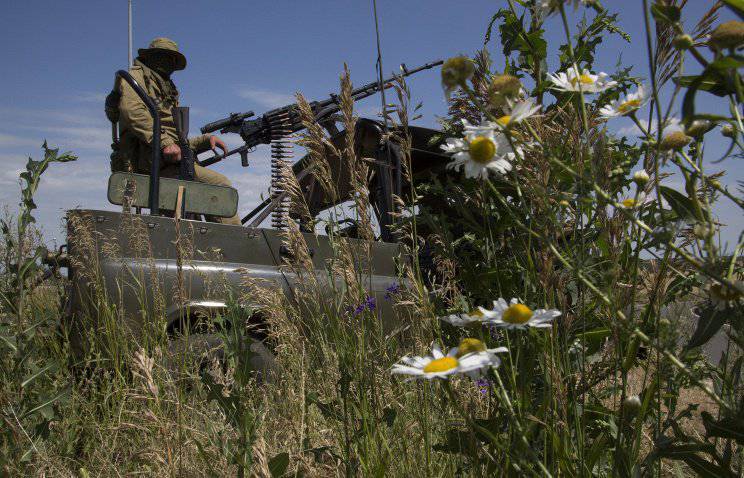 The representative of the headquarters of the national militia:
Now a column of security officials came to our ambush near the village of Dyakovo, Lugansk region. Works artillery.
Dyakovo is a settlement in the Antratsitovsky district of the LPR with a population of about 2,5 thousand people. Many residents of the area (mostly women and children), fearing for their lives, were forced to leave their homes and go to the territory of Russia.
Fighting in this town was fought several times. One of them took place at the end of May, when the militia attacked the customs control point.
The representative of the information department of the so-called "ATO" Tymchuk in "Facebook" states that the Ukrainian security forces have lost one person killed and 17 wounded. He reports that the positions of the Ukrainian National Guard under fired in the area of ​​settlements Dyakovo, Zelenopole and Nizhnyaya Derevechko.
If we are talking about the shelling of ukrosilovikov from artillery guns and volley fire systems (so says the same Tymchuk), then the message about one dead looks strange.
In addition, Tymchuk claims that the militia fired at the Ukrainian troops near Rubezhnoye and the village of Metalist (LNR) - 1 dead, 4 injured.
When Tymchuk was asked about the losses among the militias, his answer was as follows:
Answering numerous questions about data on terrorist losses. We have not been giving such data for a long time for one reason. Our estimates of the losses of militants (as Kyiv calls the people's militia - note "VO") have been very different lately from those with which some representatives of the ATO headquarters operate. On the one hand, we do not want to refute the official representatives of the power structures. On the other hand, we cannot duplicate them, i.e. to give information in the reliability of which we strongly doubt. We ask for your understanding.