Where will the Iranian gas go: test for Tehran's geopolitical ambitions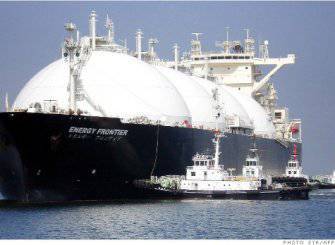 It is impossible not to notice that the "Iranian" theme has recently increasingly begun to appear on the pages of the media. The logic is clear.
On the one hand, the European Union realized that Iranian gas is actually the only way to reduce the volume of Russian supplies. Alternative suppliers are working at the limit, there will be little Azerbaijani gas, with LNG everything is clear for a long time.
Naturally, this option partly suits the United States (at least those groups that are ready to defrost relations with Iran). Moreover, they also understand that it is impossible to preserve the sanctions regime indefinitely. And if Iranian gas still enters the market, then at least let it reduce the dependence of the European Union on Russia. True, it is too early to draw any serious conclusions from hints of warming between Iran and Western countries. Signals to "reboots" - with the same motivation - have been observed in recent years more than once. But for now - everything is as before.
Let's face it, Russia benefits from the situation with the frozen gas exports of this country. At the same time, it is clear that the situation is in any case abnormal. Iran's reserves are too large (formally, the first in the world, in fact, parity with Russia), the world economy needs extra gas.
And if so, and the process is objectively impossible to stop, then you need to at least take part in it. How to negotiate with Iran is in general clear.
The simplest and first thing is to divide the markets. As is known, Iran has long wanted to implement the Iran-Pakistan-India gas pipeline project. But it did not work out. First, India jumped off under the formal pretext of bad relations with Pakistan, then Islamabad, also under pressure from the United States, turned back, although Iran has already built a gas pipeline through its territory.
Now countries will buy super-expensive LNG, primarily Qatari. India is already buying it, Pakistan is preparing. But an understanding of how much they overpay, and how it affects the economy, will inevitably appear. At the same time, the projects announced by India (or rather, dreams) about pipelines from Russia speak of interest in alternatives. And the same TAPI (Turkmenistan-Afghanistan-Pakistan-India) still does not want to "close".
Against this background, gas from Iran would be noticeably cheaper (10 dollars per million Btu against at least 15 dollars in the case of LNG). And this gas can be delivered with minimal effort. At the same time, both Pakistan and India are very capacious markets, especially in the case of fairly low prices.
But Russia in these markets is either not present at all, or moderately (Gazprom has recently agreed on the supply of LNG to India). Objectively for us, these markets are too far removed - and "pipeline", and even LNG is not very convenient to take there.
But the second direction remains - the western one. And here Iran has two options for gas expansion.
First, it is the Iran-Iraq-Syria gas pipeline, announced a few years ago. True, gas on the Syrian coast was also once planned to be liquefied and sent to Europe. But this option is obviously unprofitable - it is easier to liquefy in place.
Secondly, it is actually European exports - in this case, Iranian gas will go to Europe via Turkey.
But then there are clear minuses. First, the Iran-Turkey border is the territory of Turkish and Iranian Kurdistan. There has never been calm here, and after the recent events in Iraq (when the division into three parts becomes more and more real) and the strengthening of Iraqi Kurdistan, the idea of ​​a common state for the Kurds can reach a new level. But even if we imagine that we can reach agreement with the Kurds, the main thing remains. Iran and Turkey are obvious regional competitors.
Entering with its gas in Turkey, Iran automatically fits into a foreign project, in the first approximation - Turkish. Recall that Turkey wants to become a sort of oil and gas hub for energy supplies to the EU from Iran, Iraq, Azerbaijan, and possibly Central Asia.
An alternative for Iran is its own project of influence in the region. And the gas pipeline super-axis Syria-Iraq-Iran-Pakistan-India is an excellent "pivot" on which all the other components could be strung. And if such an axis is created, then European exports for Iran will automatically go to the background - to provide all consumers with gas.
Of course, there is talk about European exports, including from Iranian officials. But this is actually a "carrot" for Europeans. It is not so easy to lift the sanctions with the condition that the gas will go only to Europe. Moreover, the level of elaboration of European gas export projects is much lower than that of the east.
And in any case, the Iranian gas - even if everything (for the EU) goes like clockwork - will get to Europe not earlier than ten years from now. Deposits are not actually being developed yet, only progress has begun in the negotiations to get out of international isolation, transportation safety issues, which have been discussed above, have not been canceled. Plus there is a huge domestic market. As it is known, so far even for its northern territories, Iran has to buy gas from Turkmenistan.
Another thing is that Europe is already listening to signals about its gas future, in order to understand how to build long-term relations with Russia. And here, of course, some correct definiteness on the part of Iran would be very useful for us.
What can Russia offer to Iran? First, political support. Secondly, the Russian Federation is ready to leave the markets of neighboring countries for Iran. There are plenty of options, which are too early to talk about. These are swap (exchange) operations in the pipeline sector, and especially in the LNG sector, if Iran gets it. This is the participation of Russian companies with extensive experience in the construction of pipelines. This, again, closer cooperation through the Gas Exporting Countries Forum (gas OPEC), whose activities are not yet beyond the scope of the declarations.
There is one more problem. Iran may be forced into European exports, creating hot spots in key places of the so far hypothetical Iranian mega-gas pipeline - this is Iraq and Pakistan's Balochistan. However, as with the same will be able to maintain calm in the Kurdish region, it is not entirely clear.
But at the same time one more common interest of Russia and Iran appears - stability on the whole Eurasian continent. Stability, which can provide long transboundary gas pipelines, when all the participating countries are interdependent.
Of course, excesses are possible here, and an example before our eyes. But this is again from the category of exceptions, which confirm the rule. The current situation with Ukraine was artificially created to destroy inter-country cooperation (in the Russia-EU line), the core of which since the Soviet times has become a pipe.
If we exclude the factor of external influence, then such gas pipeline systems themselves are an excellent bundle, which does not allow objectively existing inter-country contradictions to develop into serious conflicts.
And if Russia closes the north of Eurasia with its megatube (conditionally, this is the EU-Russia-China axis), then Iran could implement a similar option in the south. The good for this is enough and stocks, and it seems, geopolitical ambitions. Complementing each other and practically not competing, Iran and Russia in this way will create an additional element of stability on the Eurasian continent.