On the evacuation of the population of Donetsk and the comments of the Ministry of Foreign Affairs of the Russian Federation on the possibility of conducting a peacekeeping operation in the Donbas
During the briefing, the Prime Minister of the Donetsk People's Republic, Alexander Boroday, announced that voluntary evacuation of the population had been announced in Donetsk. Evacuation will be carried out in connection with the statements of Kiev on taking measures aimed at taking the capital of Donbass in the ring. Alexandra Boroda quotes
RIA News
:
We have to do it. Russia needs to prepare for several hundred thousand refugees. Almost all of them want to go to the Russian Federation.

Boroday announced that voluntary evacuation of the population could begin as soon as possible.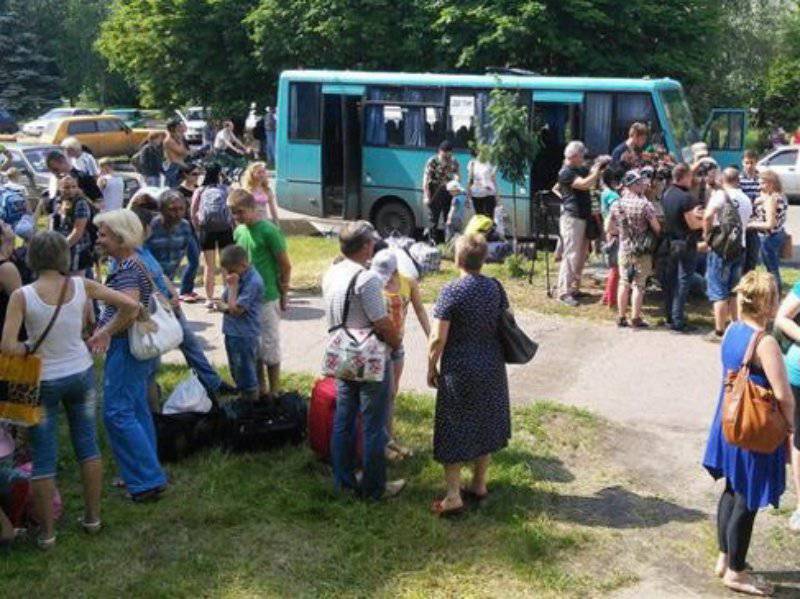 Meanwhile, the Russian Foreign Ministry made a statement regarding the possible conduct of a peacekeeping operation with the participation of Russian troops in the Donbas. Answering a question from a Ukrainian journalist about plans to conduct such an operation with participation in an international contingent of Russian military personnel, Russian Foreign Ministry spokesman Alexander Lukashevich said:
You have been reading somewhere, probably in your sources about some kind of peacekeeping operation. Nothing like this. And in my opinion, at the highest levels, this version, which someone has launched, apparently deliberately provoking a Russian reaction to events in Ukraine, is wanted to get.
At the same time, Lukashevich noted that Russia will support OSCE events, which are (hereinafter referred to as quotation)
important monitoring mechanism
. How many more days (months, years) this "important monitoring of the OSCE" will continue, have not been specified in the Ministry of Foreign Affairs of the Russian Federation.