Troops of the Western Military District received a brigade set of operational-tactical missile complex "Iskander-M"
According to the
ARMS-TASS
With reference to the Deputy Chairman of the Military Industrial Commission (MIC) under the Russian government of Oleg Bochkarev, on July 8 a solemn ceremony was held at the Kapustin Yar training ground in the Astrakhan region, during which the troops of the Western Military District received another brigade set of operational-tactical missile system (OTRK) " Iskander-M.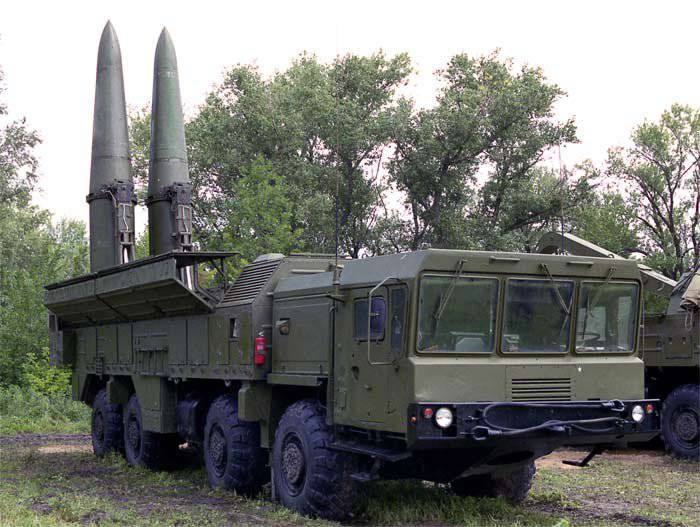 "Today (July 8) at the Kapustin Yar proving ground, the next brigade kit of the Iskander-M PTRK is being handed over to the Armed Forces of the Russian Federation, Bochkarev said, noting that he came to the event on behalf of Deputy Prime Minister Dmitry Rogozin to hand gifts and greetings from the military industrial complex and the Russian government.
Colonel-General Anatoly Sidorov attended the ceremony from the Western Military District, and the industrial designer was represented by Iskander General Designer Valery Kashin.
"This is actually the first example when the industry rents a complete complex immediately - almost 100 of various products. Previously, each of the enterprises of cooperation handed over its products to the Armed Forces independently, and the final manning was already carried out by the troops, "Bochkarev emphasized.
According to him, more than 300 of various enterprises are working on the creation of "Iskander", and the military-industrial complex and Dmitry Rogozin personally follow the course of execution of the state defense order.
OTRK "Iskander-M" exceeds its foreign counterparts in efficiency, accuracy, efficiency of preparation for the launch of missiles and other characteristics. In addition, the complex's missiles fly along an unpredictable trajectory, maneuvering with high overloads, which provides an increased probability of overcoming the enemy's missile defense.