The head of the Lugansk People's Republic, Valery Bolotov, said that the militia forced the Ukrainian security forces to retreat from Lugansk, reports
ITAR-TASS
.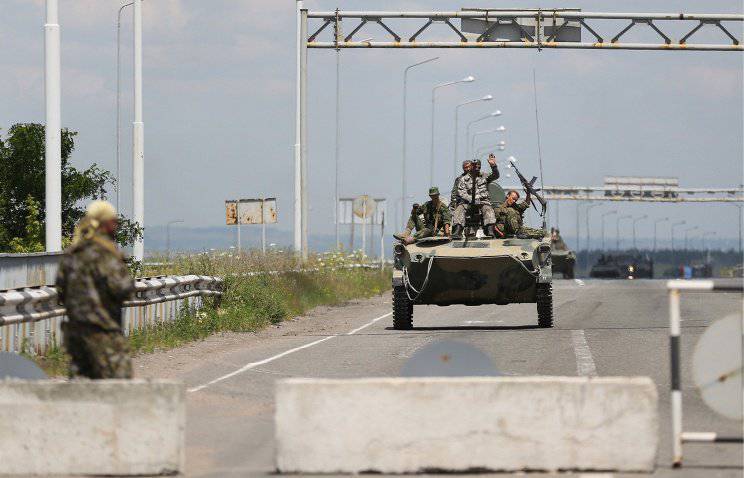 "In some areas, the front line moved in our favor," he said during a press conference. "We still control the Izvarino district and this section of the border."
According to him, the defense of the republic got stronger, the militia "had the opportunity to stop the enemy."
"As a result of the fact that armored vehicles and artillery systems were in service with the army of the republic, the enemy began to incur significant losses," he stressed.
According to Bolotov, the Ukrainian military began to actively dig in and build long-term fortifications. In addition, they have recently avoided direct collisions. Instead, sabotage practices are used. The head of the LC said that the militia had already defused the sabotage group, which included three people.
In turn, the Ukrainian security forces continue "thorough preparation" for the capture of Donetsk and Lugansk "without involvement
aviation
and heavy artillery. " This was announced by the speaker of the information center of the Council of National Security and Defense (NSDC) of Ukraine Andriy Lysenko.
He noted that the "active blocking phase" of Donetsk and Lugansk had begun, work was under way "on blocking the routes to these cities".
According to Lysenko, the security forces have all the information about the roadblocks of the militia on city streets, as well as the buildings where they are located.
"In these major cities, the operation will continue as planned by the president of the country," he stressed. - The plan is kept secret. Let me just say that its implementation should be an unpleasant surprise for terrorists. "
However, according to Bolotov, Kiev's plans for Donetsk and Lugansk are "another bravado".
"This is another bravado of the fascist government about the total stripping, because they cannot approach the city and are suffering heavy losses due to our shelling and pressure from our side," he noted.