The German football team has inflicted the biggest defeat on the Brazil team.
stories
: World Cup semifinal match, held in Belo Horizonte, ended with a crushing score of 7: 1. The Brazilians managed to score a "prestige goal" only in the 90 minute of the meeting.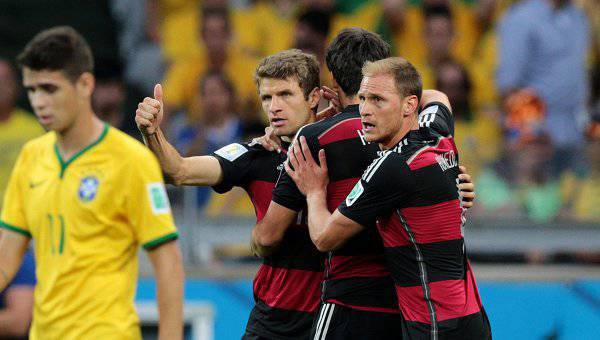 It seems that the Brazilian football fans will come to their senses for a long time.
ITAR-TASS
reports that unrest in the fan zones of the cities of São Paulo and Recife began during the match. To disperse the police had to use tear gas.
Immediately after the semi-final, fans set fire to several buses in Sao Paulo. Destroyed at least two vehicles, notes
"Russian newspaper"
. In addition, during the riots, heated fans defeated and plundered an electrical engineering store. In Rio de Janeiro, after Germany's fifth goal, hundreds of people rushed out of Copacabana Beach onto city streets, which caused a huge crush and panic.
A lot of photos of people who burned Brazilian flags appeared on social networks. The most popular hashtags on Twitter are #DavidOBrasilTeAma, #BrazilGermany, #BrazilvsGermany, notes
"Reedus"
, giving a few of the most vivid comments.
The revolution in Brazil will be the first, for which the States did not stand.
Oleg Matveychev, professor of HSE
I don't understand one thing: what kind of tough German porn on "Russia" was shown instead of football ?! "II will give ist fiction! Shterbe! " Well, and so on, you yourself understand everything ...
Dmitry Lekuh, writer
And not because this is SHIT the Russian team as it might seem at first, right?
Alex Bishop, vocalist for Suspense Heroes Syndicate
Kurginyan urgently flew from Donetsk to Rio de Zhenayiro ...
Lev Sharansky, Murzilka blogger
Brazilians just have a nepharic form ... The color of it ... Stopudovo, they also thought of it ...
Alexander Rogers, Ukrainian journalist
Helpless Brazil is hauled in like an elderly walking lady who has forgotten that she is not young and has long tied up with the past, but only in words! And they do it in front of everyone who thought she was just an old woman ... This is the softest way I could describe Brazil! I am more than disappointed!
Azamat Mintsaev, Deputy Chairman of the All-Russian Inter-Ethnic Youth Union