Russia should be afraid ("Do Rzeczy", Poland)
Interview with the General, intelligence intelligence officer of the Polish People's Republic and the Polish Republic Marian Zakharsky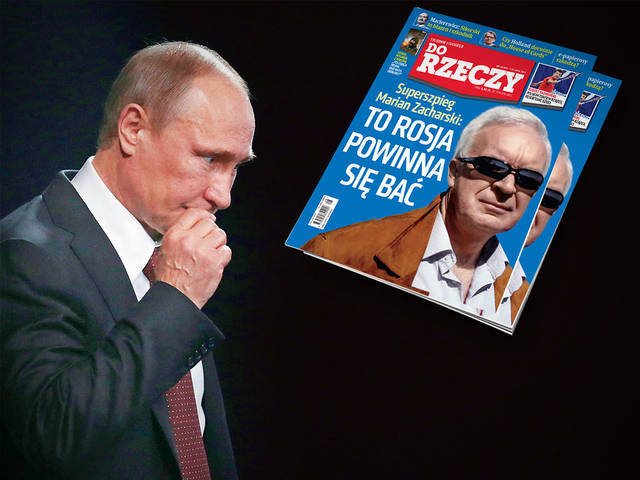 Do Rzeczy: Will Poland still exist in 20 years?
Marian Zacharski: Yes, undoubtedly. Poland somehow cope. But if someone asked me if Russia would exist in its modern form in 20-25 years, I would have big doubts.
- Почему?
- Because Russia is struggling with serious internal problems and tensions. The population is sharply decreasing, separatist movements are becoming ever stronger. In fact, it is difficult to imagine that the Russians, with their declining potential, will be able to hold such a huge territory, especially Siberia. The main for them - the income from the sale of oil and gas. This huge money is almost completely "eaten up", somewhere is leaking. They are not invested, do not invest in the development of new technologies. So with fear in the future, it is worth looking not to the Poles, but to the Russians.
- Wow! Many readers will be surprised. In recent weeks, we have constantly heard that Russia will soon attack and conquer us.
- I do not see prospects for the implementation of such a black script. The problem of Poland, not the first century, lies in a different plane. These are constant squabbles between the Poles themselves. Unfortunately, Polish politicians are for the most part deprived of what they call the sense of state interests. They put the hatred of their rivals in the first place. But strategic key issues for the state should be the subject of consensus. Unfortunately, this is rarely the case in Poland, because for politicians the party struggle is more important.
- We could see this lately. Have you been surprised by the buzz scandal?
- Yes and no. Of course, it was hard for me to believe that such high-ranking people in government structures go to a restaurant to discuss such things. If a person has such an irresistible desire, he must do it in the quiet of his office or other government facilities. I am annoyed to see on the front pages of the world press the argument that our political class lacks exactly that class.
- How do you, being an expert, assess the fact that the conversations of key figures in the Polish state managed to be so easily recorded? The case was overwhelmed by our special services?
- I do not think so. Intelligence agencies cannot control the statements of important government officials. If the conversations were held in places that were not available for wiretapping, there would be no scandal. In the context of these events, it should finally be understood that with modern technology something like privacy does not exist. So, all those who occupy important positions should control themselves better, and if they don't do this in certain circumstances, it's pointless to be surprised at the consequences. Political participation always carries with it a share of the risk.
- Internal chaos has already led Poland to collapse.
- Fortunately, a completely different international situation is now. Putin's Russia is not the same as Catherine II's Russia.
"But Putin, like her, is seizing new territories."
- Yes, a small Crimea, with which Moscow will still have big problems. I recently saw a report from the end of the school year in the Crimea. From the reproducers, the melody of the Russian anthem sounded, and young people sang the words of the Ukrainian hymn to it. This symbolic picture does not bode well for Moscow for the future.
- They say that Putin wants to revive the Soviet Union.
- This is an impossible task. The longer the former Soviet republics live independently, the more difficult it is to control them again. After all, almost a quarter of a century has passed since the collapse of the USSR. Even Belarus Lukashenko, which until recently was considered a Russian satellite, is trying to conduct an increasingly independent policy. Not to mention Azerbaijan or Uzbekistan. Getting back to the 1991 situation is difficult.
- In all these countries, many Russians settled in Soviet times. Moscow can play this card, as it is doing now in the east of Ukraine.
- In Eastern Ukraine, there is not so much pro-Putin sentiment as can be imagined according to Russian media reports. It seems that a large role in the rebellion is played by people trained in Russia. From the polls it follows that the Russian-speaking population of the east of Ukraine wants first of all peace. For example, the overwhelming majority of local mothers fear that their territory will fall to Russia. After all, this country leads a not very predictable policy, and they fear that their sons may join the army and die in distant conflicts, for example, in some new Chechnya. Ukraine, moving towards the European Union, looks like a calmer and more stable option.
- Is Russia a colossus with feet of clay?
- Of course, it should not be underestimated. But this does not mean that the Russian bear should be overly wary. First of all, I mean leading Western leaders here. They must take a clear and decisive position. We are not talking about the use of military means: in order to make Russia think, it is enough to lower world energy prices. After all, 60% of this country's GDP accounts for the income from the sale of oil and gas.
- That is, we will not see Russian soldiers in Warsaw?
- Fears of Poles arose, of course, not from scratch. Our neighborhood with Russia could not be called the most pleasant. Even more afraid of Moscow are the Baltic countries. It is said that the most dangerous beast is the one that is at its last gasp. There is something in this, but the scenario in which the Russian army, under the current geopolitical situation, would have crossed our border, seems to me to be political fiction.
- In Poland they say: yesterday is Georgia, today is Ukraine, and tomorrow is Poland.
- I do not see this tomorrow. In addition, we should not forget that Georgia, despite the defeat in 2008, did not at all end up under the Russian occupation. It continues to exist and quite well. And from the entire Ukrainian conflict, Moscow received more problems than benefits. After all, she lost Ukraine. Putin drove a big wedge between the Ukrainian and Russian peoples. When the shots sound and the funeral processions go, the jokes end. Ukrainians will not forgive Russians for this. This whole mess is turning around not quite the way Moscow would like.
- How will the situation develop in Ukraine further?
- I think, after some time, Russia will go back down. It does not seem that she was able to achieve great goals, and the costs grow with each passing day. For example, in March, Ukraine stopped supplying Moscow with components for
weapons
which are produced in factories left over from the Soviet Union. Of course, Russia could try to start production at home, but this requires billions of dollars in costs and time for building and equipping enterprises, and training personnel. So I do not think that the Russians will continue to bite off pieces from Ukraine, Putin has something to lose.
- So what will happen next?
"Now everything depends on the new Kiev authorities: will they be able to maintain the confidence of their people in the long term?" Do you know why there was a revolution on Maidan? In my opinion, not because of dreams about the EU. People just got tired of the fact that a small group of local kings built fabulous palaces for themselves, and they live in poverty. They are tired of corruption, looting of state property. I saw an interview with one protest participant who came to Kiev from a remote town. He said frankly that he understood that there were no prospects in his life, but he was fighting for the future of his children. If the new leadership declares war on these pathological phenomena, it will be possible for Ukraine not to worry.
- All these pathological phenomena in an even more expressive form are present in Russia.
- Of course, we can not exclude that changes will occur there. Many Russians travel, see what normal countries look like, which are well managed. Then they return home and compare this with how state property is managed in their homeland. If you ever opened the door to another world, it is already difficult to close. It seems to me that thinking Russian circles are in frustration. Local intellectuals, the middle class, otherwise see the path to prosperity, believe that the country can be managed better. Many intelligent advisers to Putin turned away from him. They say that they recommended him to conduct a completely different policy, and they look with concern at what he is doing.
- What is the place of Poland in this?
"We want us to have it, like in Poland," Klitschko said in one of his speeches on the Maidan. These are very important and symptomatic words that, perhaps, no one noticed here. We constantly complain about how bad and hopeless it is, and it turns out that other Eastern European countries see us as a development model. This situation opens up tremendous opportunities for Poland.
- Let's return to the pessimistic scenarios born on the Vistula. In the past few weeks, I have heard from everywhere that Putin is Hitler.
- The President of Russia is an unpleasant person, but, as far as I know, he does not kill millions of people in gas chambers. If anyone can be compared with Hitler, then only Stalin, who even surpassed the German dictator in the number of those killed. If we talk about the foreign policy of Russia, now is not the time to repeat the Hitler scenario 30-x. The world today is ruled almost exclusively by money, and with their help you can achieve great goals. And Russia is not a rich country.
- When was the threat for us more: in 1939 or now?
- Of course, in 1939. It is impossible to even compare. Our policy of the time was wrong, the strategy of bad relations with both powerful neighbors - the Third Reich and the Soviet Union was doomed to failure. It led to the fact that both enemies agreed among themselves, and their union posed a mortal threat to us. "I will not teach you the war on two fronts," said Marshal Pilsudski. "Because the war on two fronts is death on Saxon Square in the battle for national honor, with bare sabers in their hands."
- Now the war on two fronts does not threaten us?
- Fortunately, no. And this is exactly the difference between the 1939 and 2014 situations of the year. You can love or not love the Germans, but no one in their right mind would imagine that if Russia attacks Poland, Germany will stab us in the back. The terrible scenario P + G, which Pilsudski talked about, is now impossible.
- Germany will not attack us, this is understandable, but will she want to protect us?
- This is a more difficult problem. The more German and other Western investments made in our country, the higher the level of our security. West is interested in the fact that nothing happened to his money. And if someone in the future will defend us, then not out of love, but first of all in order to protect our interests. This is how international politics work. The trade turnover of Germany and Poland is quite large, and to this can be added such a symbolic factor as a large number of mixed marriages. Our states are now connected to each other more than ever before.
- But this does not mean that the Bundeswehr will shed blood defending Bialystok.
- True, we went through this in 1939 with the French, who did not want to die for Gdansk. But let's not forget that Germany is much closer to us, and in the event of the collapse of our country, the Russians will end up near Berlin. I do not think this is a pleasant prospect for them. Even if they don't want to protect us, they can supply us with weapons to fight Russia. A weapon, as you know, they have excellent.
- What would such a war with Russia look like? In Poland, opinions differ: some say that the Russian army is at a medieval level, and its Tanks would be stuck already in Belarus; others argue that it would be a blitzkrieg, and after a few weeks we would only have to wage a guerrilla war.
- I am not a military strategist, and as a non-expert I think that the scenario of the conventional Polish-Russian war is extremely unlikely. I do not believe that something like this could happen. Crimea is very far from Poland. Our current geopolitical position relative to Russia is not so bad. We are separated from her Ukraine and Belarus. In turn, the strike from the Kaliningrad region is not feasible: it is surrounded by NATO members, it would have been immediately stopped. Russia would simply lose this territory.
- And the sea route?
- The straits, which would have to overcome the Russian ships that came out of St. Petersburg, it would be easy to block. So this option also disappears. However, let's leave these thoughts to strategists.
- Let's talk then about the special services. As follows from your books in the "Backstage of the Intelligence of the Second Polish Republic" series, these structures worked very poorly before the war. What are the actions of Poland on the secret front (especially in relation to Russia) now?
- My books are based on the archives of the secret services of the interwar twenties. Unfortunately, the picture that emerges from these documents does not really testify very well to our intelligence. With regard to the current situation, I can not speak on this topic: I just do not have information. I left the country 18 years ago, and since then I have not been in contact with the Polish special services.
- What did the 18 situation look like years ago?
- Not bad. Although these were only the first steps of the so-called new special services, the people who led them were very serious about their work. If it remains so far, then apparently everything is in order. Undoubtedly, NATO membership gave us a lot. I hope that we also benefit from the work of the intelligence services of other members of the Alliance.
- However, there is often talk about the incompetence of our intelligence services, which is manifested, for example, in the fact that since 1989, they have not caught a single Russian spy.
- And how do we know this? There are different ways to solve such issues, and information on this topic may not get to the newspapers. There may be, for example, some unwritten Polish-Russian agreement, under which caught spies are simply deported or exchanged without publicity.
- Professor Vechorkiewicz (Paweł Wieczorkiewicz) said that by withdrawing troops from Poland, the Soviet Union left here a huge number of agents and agents of influence: not only the Communists, but (first of all) people from the Solidarity camp.
- It is difficult to argue with the fact that they left someone with us. These are the usual actions of special services, not only Soviet ones. When Americans leave any territory, they also leave there at least agents of influence. And the Russian services are professional, efficient and able to think for the long term. They have traditions of working with agents who are rooted not only in the KGB and the NKVD, but in the royal secret police. Their method of work is infiltration. I remember how, in informal conversations after 1989, the Americans assured me that it was completely unbelievable that a "mole" would be found in the ranks of the CIA that only superpatriots were working in the US intelligence agencies. And then it turned out that they were, just remember Robert Hanssen from the FBI or Aldrich Ames from the CIA. So it should be assumed that we are not an exception either, and such people work with us.
- The question is, are they not activated in the event of a conflict between Russia and Poland, and will they pose a serious threat?
- Let's start with the fact that many people who decided to cooperate with the USSR in 80-s did not necessarily know that they work for him. These services love the so-called recruitment under a foreign flag. That is, they say they represent another country, for example, the United States or the United Kingdom. The Pole they had recruited could be piously convinced that he was acting in the interests of Poland and the democratic camp. In the event of a hypothetical conflict with Russia, these people, of course, will not present any danger.
- A conscious Russian agents?
- I do not think that they are so high as to paralyze the functioning of the army or state institutions. The people who occupy important posts in Poland are now being carefully checked. This result is not so much our own laws, as NATO procedures. It is about access to key documents of the Alliance. Since the regime change, 25 years have passed, and every year the threat from the Russian agents in the higher echelons of power should decrease. But this should be asked the leadership of the Polish special services. I already belong to
stories
intelligence.
- During the Crimean conflict, the new Prime Minister of Ukraine dismissed the commander of the local fleet. The person appointed to this post, who seemed reliable, switched to the side of Russia after 24 hours. Should we be afraid of such surprises?
- I do not belong to the lovers of the army, with which I once had a lot of disagreement. But I can't imagine a Polish admiral or general doing something similar. People who could be capable of such treason, if they existed at all, no longer serve in the army. Your story shows not so much that the Russian special services conduct some special activity in Ukraine, but rather that the new prime minister behaved not too professionally, making such a decision without proper checks.
- You say that there can be no Russian agents in key posts in Poland. But you had to leave the country after you made public the information that Prime Minister Józef Oleksy was in contact with the Moscow special services.
- As you yourself said, it was almost two decades ago. Much time has passed. I believe that a lot has changed in Poland.
- Meanwhile, the Union of Democratic Left Forces (SLD) continues to participate in the elections, and, perhaps, the Poles will ever again elect this party.
- In a democratic state everyone has chances, but I think that the old SLD will not come to power anymore.