The list of premium weapons in Russia can be expanded
Rossiyskaya Gazeta
reports that the government of the Russian Federation is preparing a draft of a new resolution, supplementing the list of types, models and types of short-barreled small and cold
weapons
which can be awarded to the Russians. The document proposes to include in the updated list of premium weapons, including the Austrian pistol Glock-26 (Glock-26).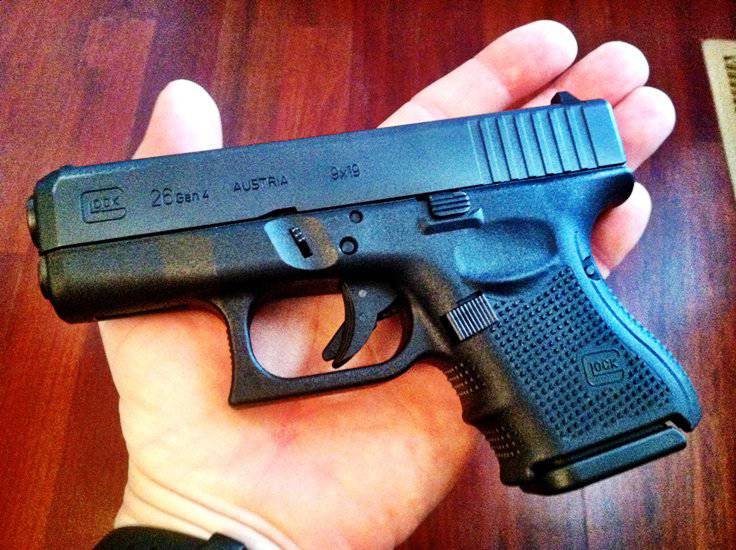 This 9-mm pistol was developed in 1955, intended primarily for self-defense and was considered a civilian weapon. However, later became popular among the secret services as a spare weapon. The high demand for the Glock-26 was due to its size and shape, making it virtually invisible under clothing. The length of the gun 160 mm, width - 30 mm, weight (without cartridges) - 560 gr.
The weapon is not very convenient for aimed shooting - because of the short handle there is no emphasis for the little finger. Yes, and the return of it more than the previous, larger models - 17-oh and 18-oh. But for self-defense, these circumstances are not particularly important. The main thing is to drive away the villain, and not to kill him with the very first shot.
Glock's standard clip is designed for 10 Parabellum cartridges placed in two rows. If you use the magazine on 12 cartridges (there are options with capacity 15, 17, 19 and even 33 cartridge), then the handle lengthens and becomes more convenient due to the protruding front part of the clip cover, which returns the finger to the little finger.
As for the awarding of weapons in the Russian Federation, only limited persons can do this: the president, the chairman of the government and the head of the state power department. Also, the Russian may be awarded the heads of other states and governments. On this list is exhausted.