The tests of the second Tu-XNUMHON aircraft manufactured by the Kazan Production Association named after Gorbunov (KAPO) for the Russian Air Force were completed. About it
ITAR-TASS
reported in the press service of the enterprise.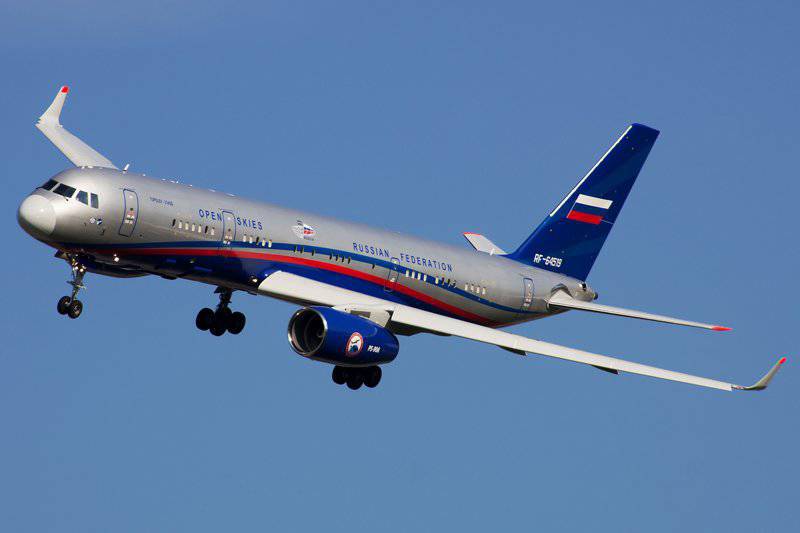 "The board Tu-214, intended for the program" Open skies ", passed the last test cycle and takes over the service at the place of deployment"
said KAPO deputy director Sergey Shmarov.
He noted that the Tu-214 aircraft assembled by order of the Ministry of Defense was modernized both inside and outside.
"On this plane, mechanized loading was introduced, the landing gear was reinforced, an additional second door appeared, the layout of the aircraft was changed. The crew cabin was also changed: there were additional places for the navigator and operator. An additional power supply system has been implemented. "
told Shmarov.
The first aircraft of this type of Kazan aircraft manufacturers handed over to the military at the end of 2013. Today's board (64-525), unlike its predecessor, who had film cameras, was equipped with German-made digital cameras.
The practical range of its flight - 6,5 thousand. Km. Infrared equipment and 3 digital cameras are installed on the fuselage, which makes it possible to conduct all-weather control when flying at low altitudes. In peacetime, the Tu-214 can fly over the territories of the 34 countries that have signed the Treaty on open skies.
The Open Skies Treaty is a multilateral international agreement concluded in Helsinki on March 24 1992. Its goal is to build confidence between countries in control of military activities and armaments. The parties to the Treaty have the opportunity to fly over each other's territories.