Although the militants of the DPR and LNR militia had to leave some large settlements, the promotion of the Ukrainian security forces is difficult, reports
Novorus.info
. In particular, during the battles for the airport of Lugansk, the military suffered heavy losses.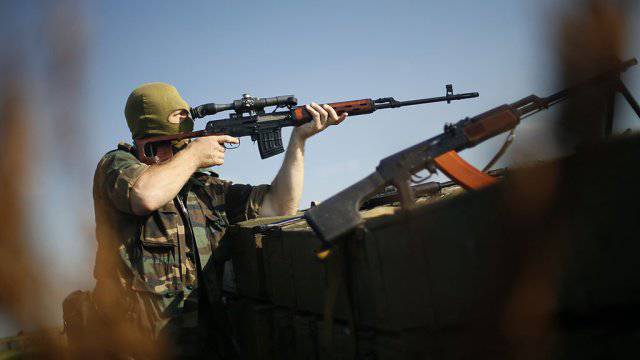 The clashes killed about 100 soldiers of the Ukrainian army. In addition, airmobile units stationed at the airport, lost a large number of equipment and weapons. In particular, 7 BTR, 5 armored vehicles, 2 mortar crews, 2 howitzers and anti-aircraft guns were put out of action. Also, the Ukrainian security forces lost an IL-76 transport plane. During the assault, the militia used heavy mortars.
Clashes continue in other directions. During the attack on Metalist, Aleksandrovka and Krasny Yar, Ukrainian security forces lost about 30 soldiers killed. In addition, they lost military vehicles, in particular, the militia fighters destroyed the mortar crew and howitzers 2. Also, militia fighters destroyed the mobile command post.
During the battle for strategic heights - the Saur-Grave mound, the Ukrainian Azov battalion lost up to 70% of the personnel killed and wounded, reports
INTERFAX.RU
with reference to a representative of the headquarters of the militia in Snezhnoye. In addition, under the village of Dmitrovka the masked
tank
militias managed to destroy the T-64 Ukrainian military. Currently, the Azov battalion, consisting of 300 fighters, has been recalled from the war zone for reformation.
"The enemy's great losses are explained by the fact that Vostok is conducting aimed howitzer fire from a height of Saur-Grave," said a spokesman for the militia headquarters.