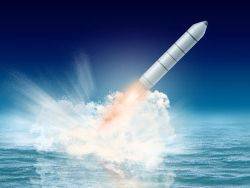 A test launch of the Bulava intercontinental ballistic missile was successfully conducted on Tuesday with the Yury Dolgorukiy nuclear submarine, Colonel Igor Konashenkov, the official representative of the Russian Defense Ministry, said.
"For the first time in the framework of the state flight design test program, the launch of the rocket was conducted from a submerged position with a standard carrier, which is the nuclear submarine" Yury Dolgoruky ". The submarine was commanded by first-rank captain Vladimir Shirin, "said Konashenkov, RIA reports,"
News
».
He added that "the launch in all parameters was successful," the combat units were delivered by the Bulava to the specified area of ​​the Kura test site (Kamchatka Territory) at the scheduled time.
According to Konashenkov, the crew of the submarine showed high professionalism and combat training when performing test shooting.
This start of the Bulava is already the fifteenth, only seven of the rocket launches from 14 were recognized as successful. The previous test was conducted on 29 on October 2010 of the year and was successful. The deadlines for the next tests of the rocket were shifted several times - until the reasons for the unsuccessful launches were ascertained.
All launches before 28 on June 2011 were made from the Dmitry Donskoy submarine (project (941U, code "Shark"). The Bulava launch from the submarine "Yuri Dolgoruky" (project 955, code Borey)) took place for the first time.
The P30 3М30 "Bulava-30" sea-based intercontinental ballistic missile (RSM-56 for use in international treaties, according to NATO classification) is the newest Russian three-stage solid-fuel rocket deployed on submarines.
The rocket can carry from six to ten individual-directed hypersonic maneuvering nuclear units of 100-150 kilotons capable of changing the flight path in height and course. It has a low-altitude flight profile.
Developed at the Moscow Institute of Heat Engineering, maximum range 8 thousands of kilometers, starting weight 36,8 tons, three-stage, control system - inertial, drop weight (payload) - 1150 kilograms, length in the launch container - 12,1 meter, length without head part - 11,5 meter .
The carriers of the Bulava-30 rocket are the upgraded strategic submarine Dmitry Donskoy of the 941 project of the UM Akula (according to the NATO classification Typhoon) and the Borey 955 submarine - Yuri Dolgoruky, are planned by Alexander Nevsky, Vladimir Monomakh and others. A total of eight submarines of this type are planned to be built before the 2015.