The United States began to study against China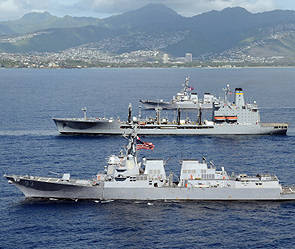 The United States and the Philippines are starting joint naval exercises near the disputed areas of the South China Sea. Manila plans to ask Washington to lease the most modern weapons.
The exercises are held in the Sulu Sea, near the Philippine island of Palawan. Recall that in the neighboring South Sulu Sea there is a number of disputed islands, which are simultaneously claimed by Brunei, Vietnam, China, Malaysia and the Philippines. The beginning exercises are not officially related to the claims being made, however, they are considered as strengthening the position of the Philippine side.
"The maneuvers will show that the Philippines and the United States are still very close and will give the Filipinos confidence in the discussions through diplomatic channels. When they again meet with the Chinese during the peace talks, they can say:" Americans are on our side, "the Philippine said. political scientist Ben Lima RIA
News
.
The Philippines has blamed China for fomenting a number of conflicts in disputed areas lately. In one of the incidents, a Chinese military vessel opened fire on the ship of the Philippine fishermen. Philippine President Benigno Aquino said that China had violated international law and asked the United States to help his country defend its interests.
Ctrl Enter
Noticed a mistake Highlight text and press. Ctrl + Enter