Ukrainian tours from Russia. Password: "Glory to Ukraine!"
There is a personal position, and there is a syndrome of earning money. This syndrome, apparently, makes it easy to mix art, culture, sport, education (both separately and together) with politics. The result is a mess, the main idea of ​​which is that each person evaluating a "dish" tries to catch in it attractive notes (ingredients) that are attractive for him, paying in advance for the possibility to find these ingredients in the "dish".
What is this all about? And to the fact that lately (especially in the situation related to Ukraine), people have begun to actively declare themselves, who put money above all, and some ratings that interest them personally, above all, reaching the peak of adaptability. Such people have one single principle - the absence of any principles, except for obtaining benefits, disguised as vigorous activity.
The other day, it was in this manner that Mrs. Arbenina from the group "Night Snipers" decided to appear. It would seem, well, a person is engaged in music - and let him do it, why look for some dubious sides for unwinding yourself? But show business is show business in everything. On the eve of their 40 anniversary Arbenin with the team arrived in Kiev. In Kiev, she did not just give a concert, but turned it into a kind of politicized action, having succeeded at the very beginning and outlined to the audience the essence of the fact that Kiev's whiteness and fluffyness have no limits, and that the Ukrainian and Russian peoples are "two big differences".
Diana Arbenina (quotes from
BBC News
):
Sweet, my beloved Kiev! (...) In the face of the Almighty (I want) to apologize for my colleagues, for those people who play rock and roll, and who for some reason have not yet supported you at that terrible time for Ukraine! (...) I am with your people, hold on!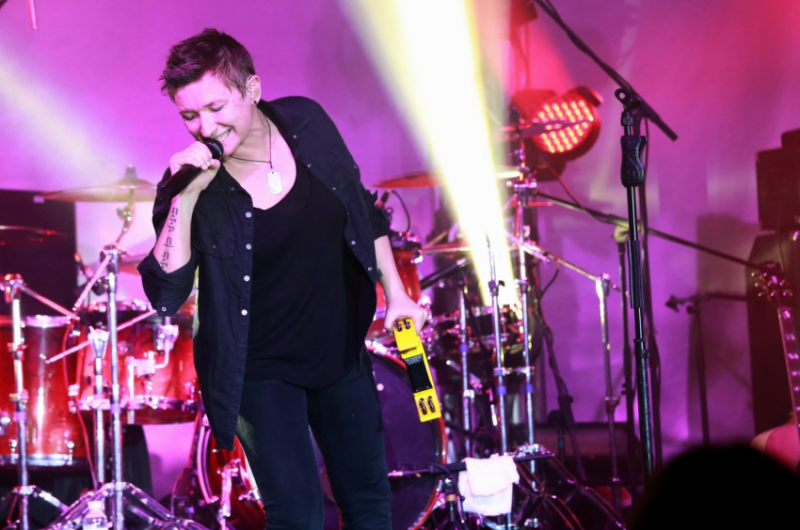 Such words of the musician Arbenina led the audience to delight. No wonder: she is "with your people," she asks forgiveness for those who did not support Kiev. The big powers of a soloist are to ask for forgiveness for others ...
"With your people" - this means that it is not with the Russian people, it means that the Russian faces for the "great Arbenina" did not come out, unlike the Ukrainians, the people thought and even more enthusiastically greeted the compositions of "Night Snipers".
So: just a couple of "politically literate" proposals - and "loot" poured into the pocket to the cheers of the frenzied crowd.
So, Arbenina asks Ukrainians for forgiveness for the fact that her colleagues did not support Ukrainian obscurantism, which started on the next Maidan. Well, why, then, Mrs. musician with such a "wrong" colleagues performing on some platforms? Or why at least not trying to convince these "lost sheep"?
But why ... if colleagues can say one thing to the public, another is inside, the third is inside their team, calculating the fee from the performances.
Speaking of speeches. After the Kiev trip, the musical group of Ms. Arbenina was noted at the Russian festival "Invasion". But there, oh dear, there were not only those "wrong" musicians, but also aerobatic teams - yes, this is pure military form ... But "Night Snipers", after counting the fee, did not notice anything unacceptable for themselves. After the "Invasion" went back to Ukraine - already in Odessa. After all, the concert tour is scheduled in advance, and therefore, in order not to lose material resources, you need to adapt to the audience that is going to meet in a particular city. Very nice, isn't it ...
This group is going to perform this year in Moscow, in St. Petersburg, in Sochi. Further, as they say, everywhere: Tver, Voronezh, Kursk, Belgorod, Orel, Krasnodar, Khabarovsk, Izhevsk, Vladimir, Novosibirsk, Omsk, Tallinn, Helsinki and Magadan.
Interestingly, in Tallinn and Helsinki, Arbenin will also ask for forgiveness for colleagues in the workshop. And then what will Arbenin say in Voronezh (September 21) or Izhevsk (November November 17)? Nothing special, the main thing is that people come to the concert and pay the money. And then you can do anything with these funds. If you want - confess your love to the pigsty on Independence, if you want - ask forgiveness for those who do not share your adaptability, if you want - turn the plate on the opposite side ...
No less interesting is the fact that now the Russian public will meet the "Night Snipers", because for this team there is "your people" and "not your people" and at the same time there is a position that it does not matter which people, the main thing is that solvent, bought tickets and went to concerts.
And Kiev was recently visited by a man who calls himself a Russian politician. This is Boris Nemtsov, who took part in the "March for embroidered shirts". Nemtsov also pleased Maidanofilov musical performance. "Ukraine has not yet died ..." - it sounded from Nemtsov's lips for those marching as a sweet song. Nemtsov's cries of "Glory to Ukraine!" And "Glory to Heroes!" Were added to the present even more delight, as well as jumping to the famous "Whoa, not jumping, that ..." Still, the presidents of Ukraine - for God's sake, take, use ...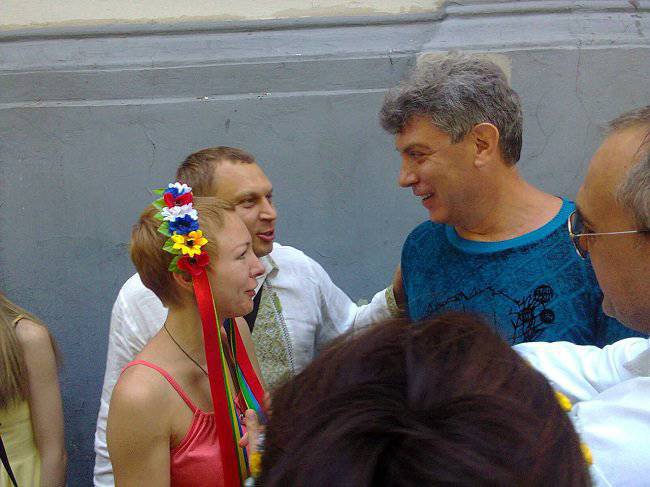 And this footage from the very "March embroidery" from Odessa. If it were night, they would see a torch procession as well ... As they say, no comment:
Ukrofantasmagoria is in full swing: the hypocrisy of musicians using political slogans, galloping pseudo-politicians who failed to implement the Maidan scenario in Russia. It seems that the thirst for earnings and the desire to get political points against the background of the frenzy of the people are paying off.