Intercom
The internal communication of the car today does not simply unite the crew into a voice network with the aim of obtaining legible voice communication between crew members when the platform moves on the battlefield. This need remains today, but the digitization process does not stop at the machine, the crew members are also required to send and receive data necessary both for the operation of the machines and for the expansion of situational awareness.
Cobham's ROVIS / VIC-3 intercom system has over 120000 users in more than 25 countries, including the United States, where it is the standard intercom system for military vehicles. A number of modules have been developed that can be integrated according to the platform's functions, right down to the mobile command post. The system allows you to interconnect up to six radio stations, users can choose the desired radio station that they want to use from any crew location throughout the vehicle in accordance with access plans, which can be set up for each painful task separately. Internal communication is also built around such a structure, which allows two channels for voice / data and power supply, thus creating greater redundancy, since both elements can be automatically redirected.
For machines with a limited internal volume, Cobham has developed LV2 with a simpler setup, it has a high level of redundancy due to the minimum installation of the Master Control Station Light and one or two full-function crew terminals. All LV2 modules can interface with other ROVIS / VIC-3 systems.
In order to ensure future compatibility with additional protocols, such as IPv6, Cobham developed TACG2. A feature of the systems is that the modules can be integrated into existing networks of RIOVIS / VIC03 machines, and can also be used to integrate the capabilities of IPv6 into existing systems.
The modular units that make up the TACG2 system are similar in form and function to existing control units, which eliminates the need to drill new holes in the body and the tower of the machine to install them. New additional elements are remote control of combat network radio stations from the crew members' places, conference communication, point-to-point communication for reports between crew members and the introduction of individual communication system settings for crew members.
Cobham has recently begun work on the delivery of the VIS-X system, which will initially complement and then finally replace VIC-3. For the VIC-3 product, Cobham collaborated with Northrop Grumman and delivered the systems through Northrop Grumman Cobham Intercoms LLC under a contract worth 2,4 billion dollars; The first copy should be delivered at the end of the 2010 year.
Thales' SOTAS system is the main contender for Cobham, as Australia recently decided to replace existing ROVIS systems with SOTAS on BUSHRANGER machines.
Beginning with 2001, the FONET system from WB Electronic is in service with the Polish army, and was also purchased by Algeria, Slovakia, Sweden and Thailand. The basic FONET system consists of the KOMUT-10TA central unit user terminals, which can support up to 4 radio stations. The FONET system may consist of a number of additional modular components. These include the portable DD-9620T-S server, which supports six RAID arrays with a total capacity of up to 64 GB with the option of an 10,4 inch LCD touchscreen display.
WB Electronics signed a deal with Harris RF Communications in 2009 to allow the American company to develop FONET to meet its specific requirements, namely integration with the company's radio stations. The first customer of the complete RF-7800I system was the USAF, which use it on escort vehicles.
The Greek company Intracom has developed an encrypted broadband radio station for intercom WISPR (Wideband Intercom & Secure Packet Radio); it was originally intended for the local market for installation on
Tanks
LEOPARD 2 purchased by the Greek army.
Selex wireless intercom for WVIS07 (Wireless Vehicle Intercom 07) vehicles is the newest product of this company's intercom family, using personal radio PRR (Personal Role Radio) as the main wireless communication tool with a dismounted crew member outside cars. The intercom system WVIS07 is capable of combining 4 combat network radios plus PRR into one system.
Digital intercom ICC-201 Digital Intercoms produced by the Portuguese company EID has a number of features, such as Voice Over IP (voice over IP); It was installed on some Portuguese military vehicles.
The Turkish company Aselsan offers the Digital Intercom System for Digital Transport Intercommunications System 6680 vehicles. Its electronic infrastructure provides internal communication between crew members and external communication through radio stations connected to this system. Internal and external communication can be established by an infantryman within a radius of up to 3 km from the vehicle.
The SRI 12100 Light Arm Vehicle Intercom intercom for light armored vehicles from Elno, which includes automatic noise canceling helmets, allows you to have a conference call between three operators and use two radio stations. The next step is the INT 2500 digital system, it allows you to conduct a conference call between seven operators and use up to four radio stations. The Czech company Mesit supplies the intercom system VICM 100, which is the main vehicle digitization system in the Czech Republic.
Although a number of internal communication systems for vehicles are used on sea and river vessels, specialized systems have also been developed. These include the David Clark Series 9500 Marine Intercoms System intercom system. Gentex also offers its Tactical Intercom System for Ships, which is capable of working under water at pressures of up to two atmospheres for 30 minutes.
Elbit Systems' VIC-500 for tanks and other military vehicles is a digital wireless intercom system that links 4 crew members on board to each other as well as to the outside world. With this system, each of the crew members can dismount from the car and move away freely to 800 meters from the car, at the same time, staying in contact with all other dismounted and aboard crew members, as well as other divisions and radio stations. The unique full-duplex conferencing capabilities of the VIC-500 system allow two crew members to speak at the same time, while an unlimited number of people can listen to them; this improves coordination and reduces the likelihood of operational errors.
The SDR-7200 programmable radio station from Elbit Systems Land and C4l-Tadiran takes into account the experience of real combat operations. Tadiran SDR-7200 uses a maximum of C4I functions (command, control, communications, computers and intelligence - command, control, communications, information gathering and computers) of combat groups due to a number of characteristics available to this radio station. This programmable radio station, which provides soldiers and commanders with the opportunity to achieve more with fewer simple radio stations, thus saving in money, time and weight.
The Tadiran SDR-7200 is a frequency hopping encrypted radio with excellent performance tested in combat. Compatible with the SCA 2.2 regulations and capable of using both current and future waveforms, the Tadiran SDR-7200 has all the advantages of a truly programmable radio station and allows you to have a high degree of interaction with other forces and organizations that create their own waveforms available for joint operations. Tadiran SDR-7200 also differentiates between "black and red" information, thus allowing secret data transmission over secure networks and enabling optimization of the available frequency bands.
The newest version of the Tadiran CNR-9000 family tested in combat, the Tadiran CNR-9000 HDR is a tactical radio system that has a high data rate of 115 Kbps on 25 kHz diversity tactical VHF / FM channels. Presented in a variety of configurations, from portable to
aviation
and ships, the Tadiran CNR-9000 HDR allows you to fulfill the latest combat needs, such as streaming video in motion. Adding a communication controller allows you to get a full-fledged tactical IP-radio station for data, image and email. Tadiran CNR-9000 HDR equipped with AGPRS (Automatic GPS Reporter - automatic GPS reporter); it is the main cornerstone in any situational awareness decision and any C4I system. The Tadiran CNR-9000 HDR can also communicate with all existing VHF radios currently in operation and has an option that meets NATO requirements for frequencies of 30-108 MHz. This new generation system was created for a wide range of combat mission requirements across the entire spectrum of combat platforms.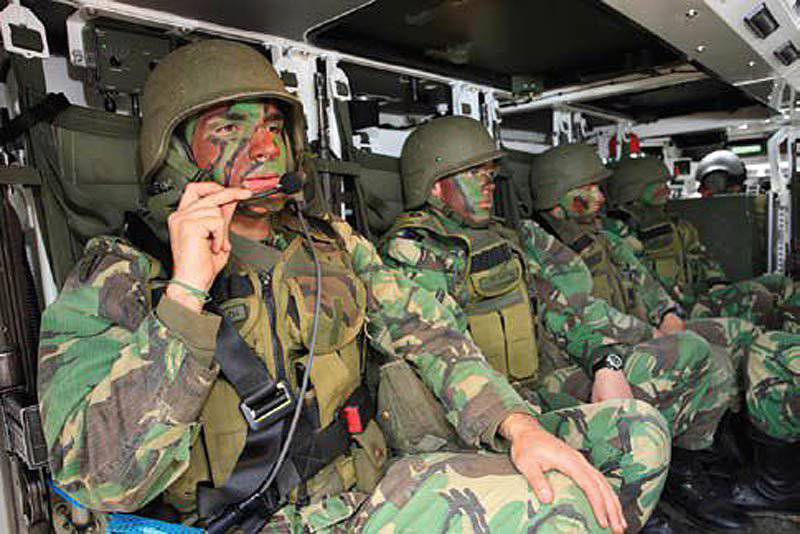 EID's ICC-201 digital intercom system installed on a number of Portuguese military vehicles
Hearing systems
In contrast to a dismounted soldier, whose priorities are hearing protection from impulse noise generated by cannon fire or similar sources, hearing protection for car crews must deal with disorders that accumulate during prolonged exposure to noise generated by normal operation of the machine, especially engine noise and tracks. Obviously, the desire to preserve hearing has tactical advantages in combat operations, so the requirements to prevent damage to hearing organs, at least for EU countries, are supported by European directives on physical factors.
The PICVC system (Product Improved Combat Vehicle Crewman - a product that enhances the capabilities of the crew of a combat vehicle) from Bose is widely used in the US Army and is used as a standard solution for the M-1 ABRAMS tank, the BRADLEY BMP, the M109 PALADIN self-propelled howitzer and other tracked armored vehicles. The system uses Bose's proprietary acoustic noise suppression technology, which also allows ambient noise as well as radio messages to reach the user's ear at the same time. Bose also offers a TriPort tactical headset designed specifically for the wheeled levels of armored vehicles, such as the M-1114 HMMWV and STRYKER. With a mass of approximately one third less compared to other analogues, it is powered by a single AA battery.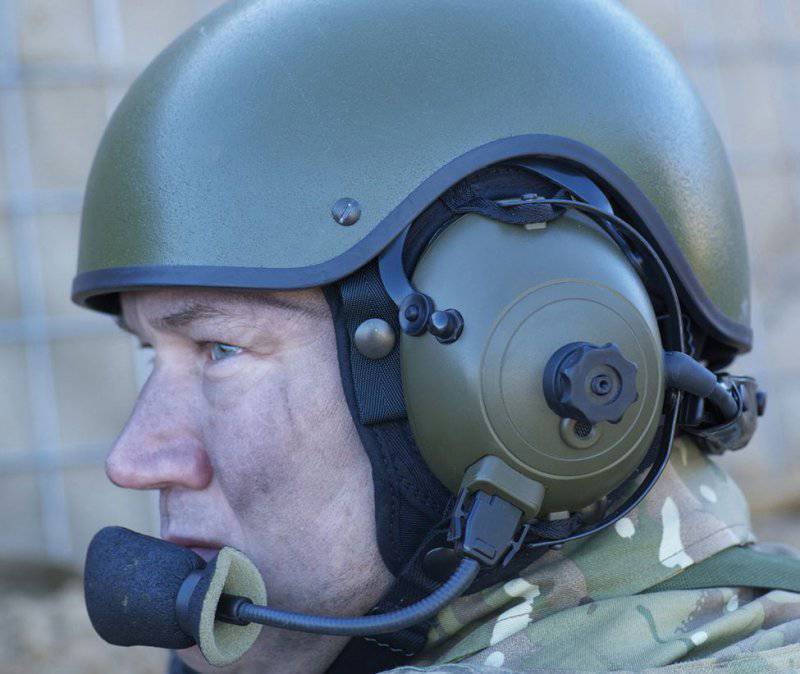 RA315 Helmset - "connection" of communication headset and helmet suitable for crew members of combat vehicles
Bose's main competitor in the hearing protection market for car crews is Esterline Racal Acoustics. The company's RA315 Integrated Helmet System is a further development of the RA180 Crewguard product, originally created for the British Army and optimized for the unique helmet design. The company took the main components of EA180 and refined them for installation on other, as a rule, more affordable headphones. Both head phones are used for heavy cars making more noise; when using passive and active noise cancellation, they can protect against noise up to 120 dB. These systems are used in a number of countries, including the UK, where these hearing protection systems for their car crews have been used since 2011. The company is considering its options for future projects, including modular systems that could include "in-the-ear" solutions - universal for a dismounted infantryman's systems - but with additional protective devices for the crew of each particular machine.
Esterline Racal also sold over-the-counter 80000 RAPTOR 25 headsets on the US market for use in MRAP and STRYKER machines. The new model RAPTOR was developed in the US branch of this company. The headset was designated RA5000 Dual Comm Passive RAPTOR, it allows you to communicate simultaneously with two radio stations, one radio station and one intercom system or two intercom systems, and the user can switch between these options.
In addition to Bose and Esterline Racal Acoustic, there are a number of other major players in this market. Selex Communications has developed with the company Sennheiser WACH 900, which provides automatic noise reduction and stereo conversations with maximum noise up to 100 dB and at the same time it weighs only 400 g. Users can switch between left and right microphones, the system fits a variety of helmets, for example MICH and PASGT. The ribbon on the neck allows you to wear a headset with a helmet with fully adjustable shoulder straps. The automatic noise canceling headset includes a CABA model that meets the requirements of the French Arms Procurement Agency. It is based on the Elno 586 helmet, which can withstand up to 110 – 125 dB and is compatible with several vehicle intercom systems. The Czech company Mesit supplies the VICM 180 family of headsets for the defense market. The headset for sailors H9530 Marine from David Clark has a noise reduction rating of 23 dB.
Materials used:
Military Technology
intl.usscgroup.com
www.jankel.com
www.armorworks.com
www.booyco.co.za
www.gore.com
www.cobham.com
www.elbitsystems.com