Hungary, which supports Ukraine in everything and does not object to gas supplies to it, nevertheless recognized the need for South Stream, the construction of which would reduce the value of a friendly country as a transit country for Russian fuel to zero. About this newspaper reports
Look
.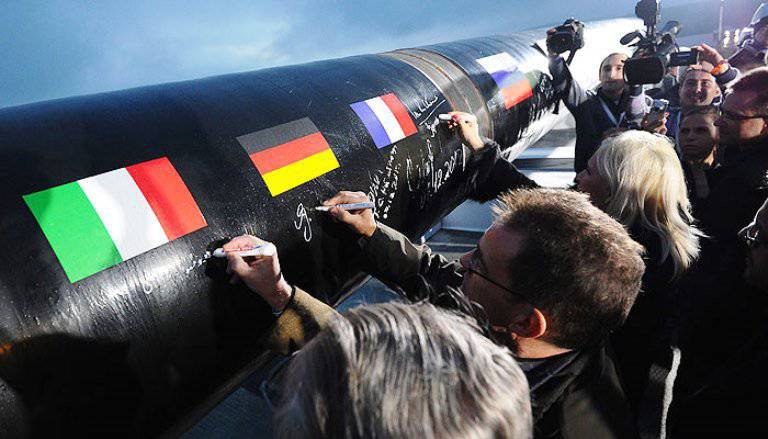 "Hungary will build South Stream, as this project will ensure the security of our energy supply. We do not want to find ourselves in a situation where our gas supplies will depend on Ukraine. "
Hungarian Prime Minister Viktor Orban declared in Belgrade after meeting with his Serbian counterpart.
"We support Ukraine (...), but we are responsible to our citizens for their electricity supply"
added the prime minister.
"South Stream" will ensure the independence of the country's energy supply from gas transit through Ukraine, therefore Hungary is against the postponement of the construction of a gas pipeline, "the publication says the words of Orban.
Hungary, through which Europe supplies reverse gas to Naftogaz, is well versed in its neighbor. And therefore, even being pro-Ukrainian, he understands that the friendship will last exactly until such time as Naftogaz starts to steal gas from the transit pipe again, denigrating everyone, including Hungary.
The agreements on the construction of the gas pipeline were signed with Bulgaria, Slovenia, Serbia, Croatia, Greece, Austria and the same Hungary. It's very difficult for all of them to abandon South Stream, because there is nothing to replace Russian gas with.
If we talk about Hungary, then last year it bought 6 billion m³ of natural gas from Russia, which ran through the transit pipe through Ukraine. Only Czech Republic (7,3 billion), Poland (9,8 billion), Italy (25,3 billion) and Germany (40,2 billion) are buying large volumes
"Besides Ukraine, Hungary receives gas through Austria, but it is not enough to cover consumption. In addition, Austria itself buys 5,2 billion cubic meters of Russian gas per year. "
said the head of the analytical department of United Traders, Mikhail Krylov.
He recalled that in 2015g. the term of the Hungarian-Russian Panrusgaz agreement on gas supply to Hungary ends, and Budapest will have to sign a new contract, bargaining at the same time interesting prices and the necessary volumes.
"Therefore, the current support of Hungary is caused not only by concerns about Ukraine, but also by the desire to quickly determine the parameters of imports for the next ten years"
noted Krylov.
There is no other place for Budapest to take it: they did not find shale gas in Europe, and it is unprofitable to buy liquefied gas, since its cost is twice as high. In addition, for the reception of liquefied gas, you need to create a special infrastructure, which in Hungary today is not. The situation is similar in other countries where the South Stream will pass.
The first country to build a new gas pipeline will be Bulgaria. That is why the European Commission most often addresses its threats to it, and not, say, Austria, where it is planned to build an end point.
However, Sofia is trying to resist the European Commission by announcing recently that the new pipeline does not violate the legislation of a united Europe.
Nevertheless, the EC declared that it would not allow South Stream to work in the EU if it does not meet the standards of the Third Energy Package. All countries that have concluded agreements with Russia are invited to review or terminate them.
According to the rules of the Third Energy Package, after the construction of the gas pipeline, Gazprom will be able to use it only on 50% of capacity, and will be obliged to provide the other half to other carriers. In practice, the EU wants to dispose of a pipe built with Gazprom's money, and this is not a lot of money, $ 39 billion. This is no longer a business, but charity.
Russia is trying to remove South Stream from the Third Package, arguing that the EC does not have the right to influence this pipeline project, since it will pass not only across the EU. For example, Serbia is not an EU member. There are other arguments, but the main, according to Gazprom, will be the two coming winters, during which Europe will have so much trouble for Ukraine, that by the end of 2015, it's unlikely to remember its ambitions.