One of Chechen-born field commanders, Tarkhan Batirashvili, better known as Umar Al-Shishani, may soon lead the military leadership of the radical Islamic State of Iraq and Levant (ISIL), an armed group which is attacking Baghdad. He writes about it
Независимая газета
with reference to the Associated Press.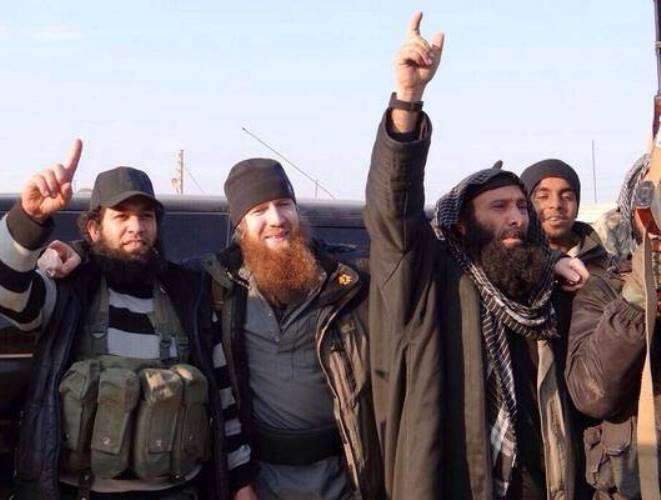 The place of the "commander-in-chief" was freed after the liquidation of the previous leader of the combat wing of Abu Abd-ul-Rahman Al Bilawi Al Anbari. Al-Shishani's rapid growth in his career is indicated by the fact that he began to appear more often than others in the videos distributed by ISIS.
According to experts, some time ago, the Caucasian was considered to be the main one on the Syrian direction, but the credits of the last videotape replicated by the Islamists say that the field commander has been upgraded to the "military leader" of the entire organization.
Experts explain this appointment by reorganization, which the leaders of the movement started. According to available information, they have built a centralized management of the Syrian and Iraqi offices, in order to eliminate the inconsistency that has appeared in their actions.
Unlike the leader of the Islamic State, Al-Baghdadi, the Chechen favorite does not seek to avoid media attention. He is happy to talk with journalists, and recently gave another interview, this time to a Russian-language resource specializing in promoting jihad ideas in the Middle East. According to Al-Shishani, arriving in Syria, he encountered a people who did not know Islam, "who smoke and listen to music." But after the success of ISIS, the situation has changed: "people turned to faith."
"Our goal is clear, and everyone knows what we are fighting for. Our road lies to the caliphate. We will return the Caliphate, and if Allah does not grant us this, then we will ask him for martyrdom. "
said the fighter in the last entry.
Recall that in late June, after the occupation of the second largest Iraqi city of Mosul, the leadership of ISIS announced the creation of "the world's first true Islamic government." An appeal was circulated on behalf of the movement, in which all Muslims were called upon to assist and obey the new government.
"There is a great boon in the declaration of the state. Praise be to Allah, Abu Bakr Al Baghdadi made this announcement. I want to ask a question to the whole Ummah (congregation of believers), is not our common goal an Islamic state? Why don't you join us? "
questioned al-Shishani.
Before appearing in the Middle East, a Chechen lived in Georgia and even served in the Georgian army, from where he quit for health reasons. After that (before 2010.) Was convicted of illegal possession
weapons
and spent some time behind bars. After his release, Tarkhan Batirashvili moved to Turkey. He joined ISIS only in 2013 when the Islamist movement declared itself as a significant force in the Middle East.