Fights under Slavic and Kramatorsk
Ukrainian security forces continue to fire on residential areas of Slavyansk and Kramatorsk. So that the reinforcements could not be put forward unhindered to the punitive divisions, the militia fired a bridge on the Kharkiv-Rostov road. The words of the commander of the militia, Igor Strelkov leads
RIA News
:
They took care of it (bridge - approx. "VO") for the possible receipt of reinforcements. But now, apparently, it's not necessary to wait, but to reflect
Tanks
the enemy from this direction, having the enemy from all sides, is difficult.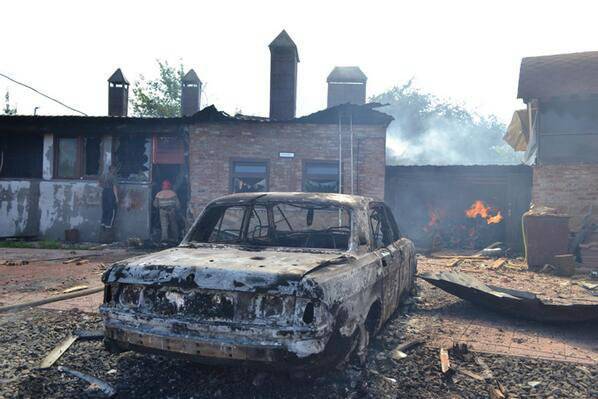 Igor Strelkov reported on the battle in the vicinity of Slavyansk:
The village of Nikolaevka (suburb of Slavyansk - comment "IN") for this morning remains in our hands. A battle took place there at dawn - we have one killed and one wounded, the enemy also has losses in manpower.
Such information resources, which usually come with information that is beneficial to Western sponsors, have been reported on the conduct of intensive fire in residential quarters of Slavyansk and Kramatorsk. And this time, these resources are true to themselves. In particular,
«Radio Svoboda»
reports that in the suburbs of Kramatorsk volley fire systems are working, which are used by ... militias.
Radio Liberty:
Separatists shelled the suburbs of Kramatorsk from "Grad" installations, suffered up to 30 private sector houses, an industrial gas pipeline, a wholesale base, an automobile gas station and supermarkets. The driver died at the gas station.
The lie, which for Radio Liberty is simply limitless. It turns out that the militia not only got Grads from somewhere, but also took them to the positions of the Ukrainian troops, starting to "peel" around the city, in which their wives and children remained ...
At the same time, Radio Liberty refers not to its journalists at all (and RS doesn't have them at the battlefield in Novorossia), but to the data of Ukrainian commanders. And according to the version of these commanders, from the very beginning of the conflict, the militia themselves bombarded themselves with all types of guns (sometimes they even shoot at air conditioners), casting a shadow of a doubt on the integrity and integrity of the ukrovoennyh ...