Rostvertol plant launches mass production of modernized Mi-28H helicopters
The Rostvertol plant, part of the Russian Helicopters holding, has begun preparations for the launch of mass production of an upgraded version of the famous Mi-28H "Night Hunter" helicopters, RIA reports.
News"
with reference to the representative of the enterprise.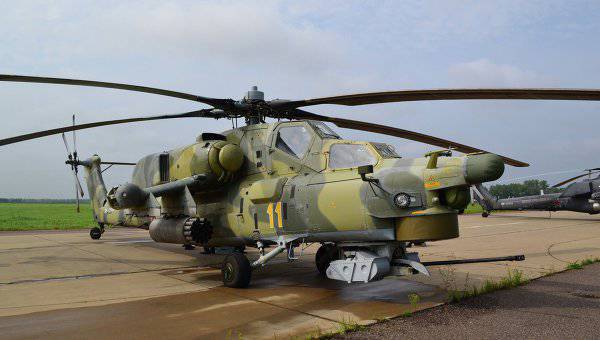 "Currently, the serial production of a dual-control Mi-28HNE helicopter-based combat helicopter, created on the basis of the Mi-28H Night Hunter, as well as the Mi-26Т2 helicopter - Mi-26T is under preparation," said the representative, noting that several foreign customers are already interested in these models.
According to him, mass production will start after the completion of state tests.
The new Mi-28HE dual-control training and combat helicopter retains all the functionality of the shock machine, but can be used to train the Mi-28H pilots. The use of a double hydromechanical control system allows the helicopter to be controlled both from the pilot's cabin and from the pilot's cabin, which serves as an instructor.
The Mi-26T is the only helicopter that can deliver cargo inside the cabin or on an external sling, the total weight of which does not exceed 20 tons. It can be used as a fire, ambulance, landing and refueling helicopter. For the modernized version of the Mi-26Т2, it is planned to install modern avionics and reduce the number of crew members. In addition, thanks to the use of new systems, the machine can be operated at night.