In the vicinity of Slavyansk, fighting continues between the forces of the national militia and the units of the Ukrainian security forces. The latter made another attempt to close the blockade ring around the city. There is shelling of the militia positions in the settlement of Nikolaevka, through which the only highway passes connecting Slavyansk with the outside world. Ukrainian security forces are firing at urban areas, infrastructure of the city.
The militia reports that the units of the so-called National Guard fired at a bridge across the river Kazenny Torets, which at that moment was moving along a bus carrying civilians. Reports about it
RIA News
with reference to Igor Strelkov. According to the latest data, two people were killed during the shelling and three were injured of varying degrees of severity. Treatment of the wounded in medical institutions of Slavyansk is complicated by the fact that the city was left without electricity.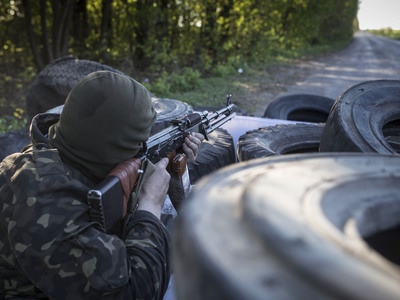 The militia commander Igor Strelkov reports the battle in the Slavyanskaya area:
We have a heavy battle near Nikolaevka. Enemy mass
tanks
and other equipment pushed our infantry into the village itself and is trying to "squeeze". At the same time, he is trying to cut off Nikolaevka from Semenovka along the "canal" highway. Enemy artillery works continuously. Fire is also underway on Slavyansk. A civilian bus was shot in the area of ​​the bridge across Kazenny Torets. 2 people killed, 3 injured. They shoot everything that tries to enter or leave the city.
At the same time Strelkov, referring to the Ukrainian media (
UNIAN
), reports on new losses for the Air Force of Ukraine per day. We are talking about the fallen attack plane Su-25 at the airport of Dnepropetrovsk and the fall of the military side in the area of ​​the mine "Progress" in the DNR. According to the press service of the Ministry of Defense of Ukraine, Su-25 in Dnepropetrovsk crashed due to a technical malfunction. The reasons for the fall of the aircraft in the Donbass in the Ministry of Defense Square is not yet reported.