ISIS militants seized a ballistic missile and American howitzers
The radical group "The Islamic State of Iraq and the Levant" continues to strengthen its position. ISIS militants took control of another city. They became Abu Kamal (Abu Kemal), located on the border of Syria and Iraq. Whenever militants take control of the next settlement, they upload photos of their trophies to the network. On the eve, the militants posed against the background of a captured rocket, which in many respects resembled the Soviet liquid ballistic P-17. Such missiles are now in service with the army of Syria (if we talk about the region in which ISIS militants operate).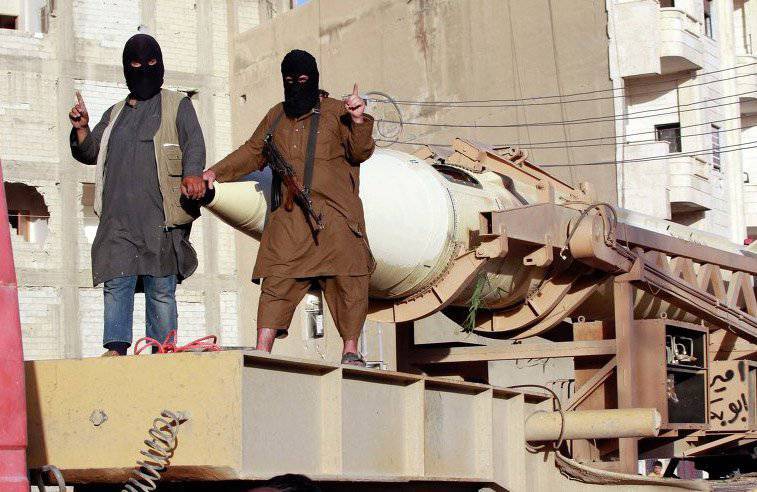 Militants posed not only against the background of, presumably, a ballistic missile R-17, but also against the background of the American 155-mm howitzer М198 in the amount of three units captured from units of the Iraqi army. This is reported by the portal.
"Sight"
.
The UN submitted an extensive report to the organization's secretary general, which states that ISIL militants do not disdain to take even children into their ranks. Ban Ki-moon quotes
ITAR-TASS
:
According to reports, the Islamic State of Iraq and the Levant grouping used children who had just turned 8 for military operations. Children fighting in the ranks of this group, as indicated, along with adults, receive cash support in the amount of 35 thousand Syrian pounds (about $ 230 at the exchange rate - note "IN") and undergo military and ideological training as jihad fighters.
The UN estimates that in Syria since the beginning of the conflict (since 2011), the total number of dead children was about 10 thousand people, several tens of thousands of children and teenagers became disabled.
Last week, ISIS militants announced the creation of an Islamic caliphate and turned for help to "jihadists" of all stripes.