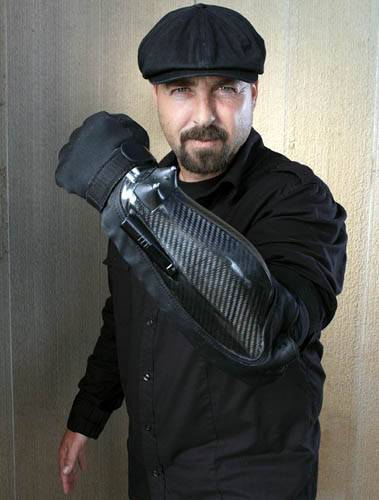 Anyone can become a superhero - at least in part. With the help of amazing BodyGuard armor, superpowers will gain a hand.
The armor, which is stretched on the arm, like a long glove, has a reinforced brace on the outside, in the cavities of which you can place ingenious adaptations in the spirit of Batman. ArmStar's BodyGuard authors suggest putting a video camera and a taser into it. The armor was successfully presented at the Mock Prison Riot and in the near future it will be tested on the real streets of the metropolis - perhaps it will be taken into service by law enforcement from Los Angeles. In addition to the Los Angeles police, according to Brown, the military was also interested in the product, who are considering the possibility of using it on the battlefield.
According to BodyGuard inventor Dave Brown (Dave Brown), he began thinking about creating a means of protection against wild animals, thinking about this after a series of cougars attacks on humans in California. In this case, the hands of the owner of such funds must remain free, and
weapon
- non-lethal. Only then did Brown realize the prospects for using him in law enforcement and began to actively promote his offspring, taking advantage of an old acquaintance with Hollywood star Kevin Costner.
So, under the high-strength plastic BodyGuard there is a full-fledged stun gun with a pair of very dangerous needle electrodes, and they are located so as to be able to simply scare off the enemy, showing him a very promising spark of discharge that runs between them. Well, if it does not work, but in the end, they can and get the enemy.
The built-in camera during operation includes a signal light, which should warn a person that all his actions are being recorded - and save the policeman from possible complaints. But the camera and the stun gun are only the first step; BodyGuard was designed according to a modular scheme and allows you to place any other necessary equipment under plastic armor - a GPS navigator, a walkie-talkie, a real-time video signal receiving and transmitting system, a biometric data scanner, chemical sensors, a heart rate sensor and everything that comes to mind and fit in size.