Correspondence between Koval and Yarema about military riot. Real hack mail or fake?
Representatives of one of the hacker groups claim that they managed to get access to the correspondence between the Acting Defense Minister of Ukraine, Mikhail Koval, who became famous thanks to statements about the need to use filtration camps in Ukraine, and Prosecutor General Vitaly Yarema. The correspondence dates back to 20 June 2014 of the year, and it deals with a kind of "captain's revolution" (military rebellion). Correspondence publishes TC site
LifeNews
.
The correspondence is given with the addresses of mailboxes, which, according to hackers, belong to the above-mentioned Ukrainian officials.
One of the parts of the correspondence is as follows.
Koval: Have you heard about the troops?

Yarema: Captain's revolution? Yes, in the know ... What do you think?

Koval: Yes, there are a couple of thoughts. With the table we decide as usual. With the "captains" will have to act harder.

Yarema: Dismiss?

Koval: There are other ideas. Mostly with relatives ... well, you know where. Declare the enemies of Ukraine, the separatists, etc.

From the other part:
Koval:

Do not run. Connect the enthusiastic mu..kov. They are now the guard. So let them now guard the officer's whores and their choices ... so that the boots do not rock the boat.

Yarema:

The main thing is that the passports, as the "Golden Eagle", did not run.

Koval:

No, they are confused. Will not be able to organize. The soldier will not follow them anyway. Promise demob for a couple of months earlier. Weapon we will withdraw Plus, we will work as usual on families. It'll be enough.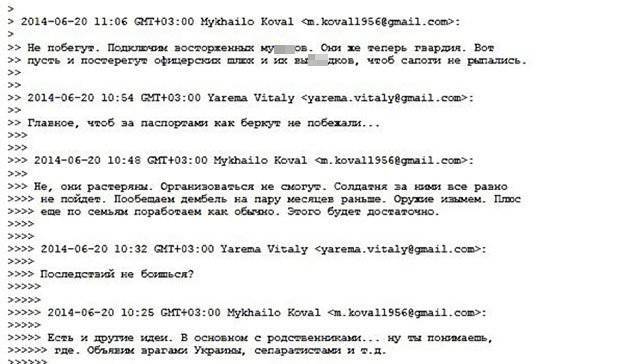 The correspondence is certainly interesting, but on the published screen from the allegedly hacked page, the time zone is confused: GMT + 03: 00, which does not seem to correspond to Kiev. Or does this time zone refer to the one in which the pages of Ukrainian officials were hacked? Yes, and correspondence via Google mail in this context also looks a bit strange.
If this information is true, then it is another proof that the Ukrainian law enforcement agencies are not doing well with discipline. If this is a "fake", then such "fakes" from scratch are definitely not born.