Klitschko: from athlete to Nazi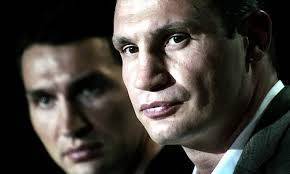 I am sure that most Russians, like me, have always been very sympathetic to the Klitschko brothers.
We all watched their matches, rooted for them.
We all considered them ours, or almost ours.
After all, these are our Slavic brothers, speaking and thinking in Russian, born with us in one big country, reading with us some books that grew up on some films, including about the Great Patriotic War.
When Povetkin-Klitschko was fighting, we were all rooting for Sasha, but we saw that Klitschko Jr. was stronger. And I think everyone understood that Vladimir Klitschko could have cut down Povetkin, but "regretted" and did not disgrace him in front of the whole country and the world. For this, I was internally grateful to Vladimir Klitschko.
Talented athletes, nice people, they could enter forever
history
as a positive example of success in life. But...
I personally received the first bell when I heard that the eldest of the brothers, Vitaly Klitschko, decided to go into Ukrainian politics.
That Ukrainian politics is a circus of evil clowns has become apparent in 2004, and since then this political den over the last ten years has only developed. in 2014, clowns dropped their masks and turned out to be monsters that led to the beginning of a civil war in Ukraine.
It would seem, where does Vitali Klitschko?
The fact is that all the policies of the former Ukraine were very clearly distributed among the regions where they came from - from the Western or Eastern Ukarina. Their origins greatly influenced and influenced their political views.
Vitali Klitschko is a very conditional Ukrainian. As a matter of fact, he has no relation to Ukraine as such, since he was born in Kirghizia, in the family of a Soviet military, and only in 1985 did he move to the Ukrainian SSR. In his "justification" it cannot be said that he had been subjected to some ideological treatment in the style of Bandera since childhood.
Vitali Klitschko, the famous athlete and champion, respected and known all over the world could stand above the fight, be higher than the factor of belonging to a particular region with its specificity. Moreover, being a respected man in Russia, he could become a pro-Russian politician and, with the support of Moscow, could eventually replace Yanukovych, becoming president.
However, Vitaly went the easy way and preferred to join the gang of Westerners pursuing an anti-Russian policy. Is such a great way in the past champion worthy? God is his judge, and maybe not only God ...
The second bell rang when, in response to what Ukraine will earn after European integration and the break in relations with Russia, he replied: "We will sell black soil."
This is the most famous Ukrainian black soil, which has no unique analogues in the world.
A queue has already lined up on this black earth in the person of the American corporation Monsanto, which is engaged in the cultivation of genetically modified plants. They say that after the landing of GMOs, it is no longer possible to grow normal plants on such land. Soil pollution.
Also in line for the Ukrainian black soil are the Germans, who dream to get it since the 1941 period of the year. It is noteworthy that the Klitschko brothers have German citizenship.
Needless to say that, to put it mildly, the interests of Ukraine and ordinary Ukrainians do not smell if the resources are transferred to the ownership of Americans and Germans?
It turns out that Mr. Klitschko is acting to the detriment of the interests of the country he calls his homeland?
The latter is not a bell, but the bell alarm sounded yesterday, when the media reported that the Klitschko brothers allocated HN for the procurement of equipment for the Kiev battalion to more effectively destroy the DPR and LPR militias from their personal funds.
So, gradually, step by step, a great athlete in the past began to fan the Nazis and became a Nazi in essence.
And here I am watching TV and I think how, in less than a year, could things have changed so much?
How can I, a kindly person, be able to look at this more-not-respected person and wish him to be torn apart by a crowd of maydauns? ..
Remember, Acne, how much rope does not curl ...
Do not forget, do not forgive!