Future big strategists: Russia will ever be forced to give its security to external control ("Time", USA)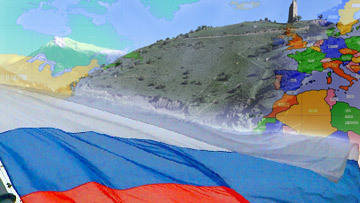 Once again as the head judge (for money) at the Wikistrat "Big Strategy" international competition, in which 30 teams of graduate students and interns from elite universities and research centers around the world participate, I would like to share the purely provocative vision of the future long-term security paradigm of Russia formulated a team of New York University (find here its national trail). A certain part of the US national security establishment was instigated by Russia's short war with tiny Georgia in August 2008, seeing in this crude demonstration of power a "rebirth" of a military superpower. New York University (NYU) dared to have a look.
Looking at the future for a couple of decades, the NYU team sees that Moscow is nervous about China's creeping "conquest" of its Far Eastern region and Beijing's greedy search for energy and mineral resources there and throughout Central Asia. And what is the fate for a multinational federation, whose population could shrink by 40% by 2050, in the troubled so-called "near abroad" in the Muslim North Caucasus and, indeed, there, on the western - NATO - flank of Russia.
But there are good
news
If we ignore these frightening circumstances: global climate change is returning Russia's vast northern borders back to strategic games, bearing in mind that the deep-sea energy resources and logistics capabilities (that is, the arctic route that has opened) must be both exploited and protected. In short, the lengthy unprotected borders of Russia are about to become much longer and much more defenseless.
This is where the NYU team, speaking from the standpoint of Russia, finds a weak spot in Moscow's persistent attempts to seek adventure in real politics on the international stage in the style of the powerful militant Leviathan. What really needs to be done, says NYU, is to throw this decaying hippo into the dustbin in exchange for creating internal and border troops capable of waging small wars, or what I have long called "sysadmin" forces more focused on environmental protection. than ramming potential enemies.
But NYU doesn't stop there. The team claims that the combination of demographic recession and economic development burdened with commodity production will weaken and weaken Russia against its geographically extensive infrastructure needs (that is, these opportunities are "warming up" in the context of global climate change). Awesome interchange? Russia has less and less chance of bullying its neighbors; it is easier to place the security of its borders under the protection of a wide range of global partners who are seeking to take advantage of the country's numerous natural resources.
We are more inclined to think of Russia solely as an energy power, says the NYU team, but its future well-being will increasingly be determined by its central geographic location (logistics) and its ability to export food and water to more hungry and hot parts of the world. Water resources in Asia can generally satisfy about half of its water needs (60% of the world's population live in an area that has 36% fresh water on the planet), and most of this "blue gold" is concentrated in the north, also known as Russia. Thus, climate change will almost certainly force Russia to switch to agriculture (unlike North America), and literally make it a place where people from too hot middle latitudes will rush.
Put it all together, the NYU team says, and it will become clear to you that Russia will inevitably enter into all kinds of security agreements with its neighbors and long-distance partners, which means that the Big Red Brother's military scarecrow will never return.
Not bad for future big US strategists.
Ctrl Enter
Noticed a mistake Highlight text and press. Ctrl + Enter