In the Airborne Forces reported on the number of troops landed and special equipment units for the past month
Ministry of Defense of the Russian Federation
provides information that during various military exercises and trainings in units of the Airborne Forces, about 21 thousands of paratroopers were parachuted during the past month. Landing was carried out from various sides: Mi-8 helicopters, Il-76, An-2 and An-26 aircraft.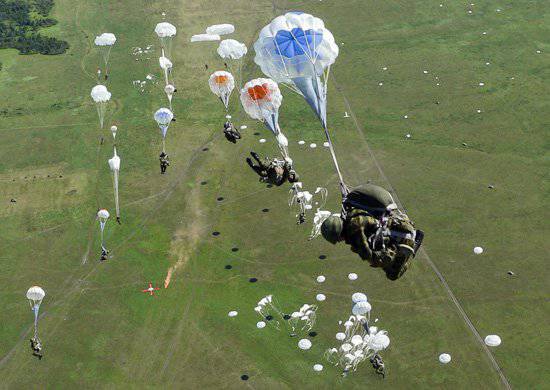 In addition to 21, thousands of paratroopers paraded 23 units of military equipment. Landing techniques were carried out on unprepared sites.
Since July, a new phase of training for Airborne Troops begins. Only in the first week of July, it is planned to parachute around 13 thousands of servicemen, of whom about a third will parachute from Il-76 aircraft.
The command says that in a number of cases, the landing of the fighters was carried out on sections of the terrain located more than 2-s thousands of kilometers. from aerodromes take off. Exercises and maneuvers with the participation of airborne troops were held in 15 regions of the Russian Federation: Kemerovo, Saratov, Chelyabinsk, Ivanovo, Ulyanovsk regions and other regions.