Experts explain why the US and Indian armies are buying Russian Mi-17
Russia signed a contract with India for the delivery of Mi-80 helicopters to this country, the head of the Rosoboronexport delegation, Sergei Kornev, told reporters at the aerospace show in French Le Bourget on Wednesday.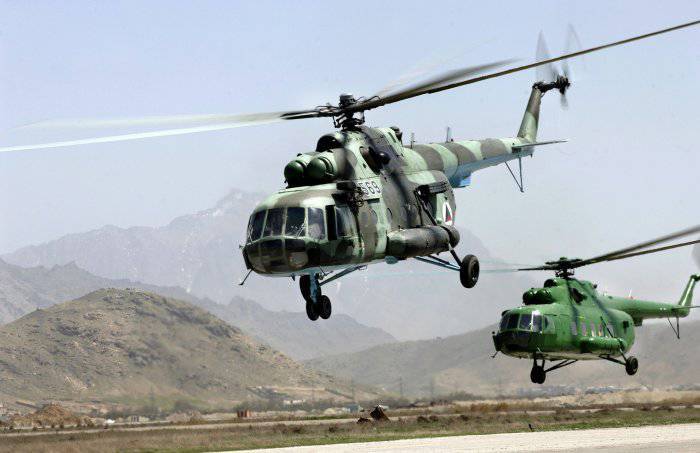 "The contract has been signed. This is about the 80 Mi-17 helicopters for India," said Kornev. The amount of the contract is not yet called.
He added that Indian experts came to Russia and made proposals for the modernization of these helicopters. "The development work was eventually really increased," said the head of the delegation.
Earlier, the 21 Mi-17В5 helicopter from the Russians was bought by the Americans for operation in Afghanistan. Some media reports that the deal is valued at more than 326,7 million dollars, confirmed in an interview with RIA
News
Deputy Director of the Federal Service for Military-Technical Cooperation (FS MTC) Vyacheslav Dzilkarn.
The export of the first batch of helicopters is scheduled for October 2011 of the year. The rest of the year will be passed over to 2012.
"This deal is the first project in
stories
Russia and the United States in the field of military-technical cooperation ", - said Dzirkaln.
In his opinion, the Americans in this transaction were purely pragmatic, since the Afghans, for whom they purchased the boards, have a long experience of operating Soviet helicopters, it is expensive to retrain them for other NATO samples.
The Mi-17B5 helicopter is one of the many upgrades of the world famous Mi-8. The first cars of this series were tested in combat conditions during the war in Afghanistan in the 80-s.
"In those days, the board showed itself from a very good side. The Mi-17 performed flights and landings high in the mountains, it was used to evacuate pilots, paratroopers after special operations, and cargo transportation," an 1 pilot, honored pilot told RIA Novosti - researcher of the Russian Federation Valery Kalashnikov.
The pilots recall that there were cases when helicopters riddled with bullets on one engine returned to the airfields, delivering wounded people or cargo.
The Mi-17B5 was created in 1997 and inherited all the positive characteristics of its predecessor. The helicopter is able to work at any time of the day, it can accommodate 12 stretcher. Load capacity more than 3000 kg board, it is equipped with additional fuel tanks. The machine can be used when monitoring power lines, gas and oil pipelines. Currently more than 100 Mi-17B5 helicopters are exported.
Ctrl Enter
Noticed a mistake Highlight text and press. Ctrl + Enter