Russia and Azerbaijan proposed to remove from the agenda of the Parliamentary Assembly a draft resolution prepared by US Senator Benjamin Cardin, which condemns the activities of the Russian Federation in Ukraine. The document is named by the author "An obvious, gross and uncorrected violation of the Helsinki principles by Russia." This newspaper reports
Look
.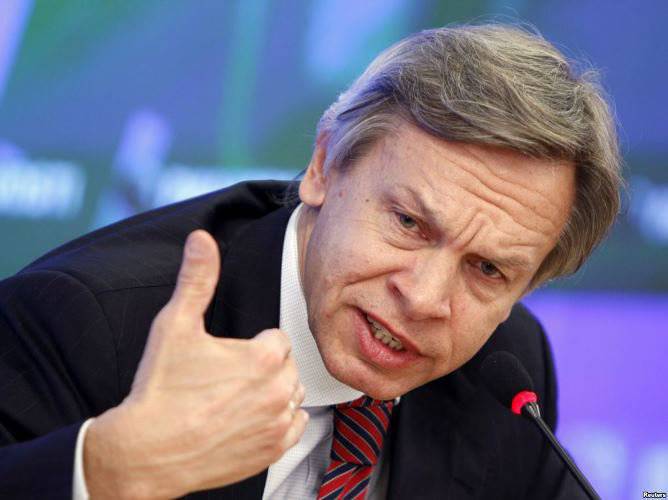 "We oppose this agenda item. This does not correspond to the situation around Ukraine. We consider this item provocative and we propose to remove it from the agenda of the session "
said the head of the Duma Committee on International Affairs Alexei Pushkov.
Earlier, he noted that the delegation of the Russian Federation was categorically against the resolution proposed by Cardin.
"He is known as one of the authors of the" Magnitsky Law "; he is a person who regularly proposes anti-Russian resolutions. I admit that it (the resolution) may receive considerable support from, above all, the Western allies of the United States. In our opinion, it is absolutely one-sided. "
said the guns.
"For some reason, Cardin decided to accuse Russia of violating the principles and provisions of the 1975 Helsinki Act of the year, although if he wants to be consistent, he must first introduce a resolution condemning the United States and NATO countries for breaking off Kosovo from Yugoslavia and recognizing him. The precedent of violation of the principle of the inviolability of borders in Europe was created just then. "
said parliamentarian.
He stressed that "one does not have to take seriously a resolution completely taken out of the historical context." The head of the committee expressed hope that the countries close to Russia and some of the EU member states would not agree with such a one-sided way of posing the issue.
In turn, the head of the Azerbaijani delegation, Bahar Muradova, said:
"The situation around Ukraine worries us very much. We support the territorial integrity of Ukraine, but, at the same time, we are not supporters of a selective approach to conflicts existing in the OSCE region. "
Muradova believes that the resolution should contain clauses not only in Ukraine, but also in other conflicts that occurred in Georgia, Azerbaijan and Moldova. Following Pushkov, she proposed to remove the draft resolution from the agenda.
"I am opposed to the voting of the 23 session of the draft resolution prepared by Senator Cardin"
said the head of the delegation. In her opinion, the document should be finalized "in order to present and adopt it at the anniversary event on the occasion of the 40 anniversary of the signing of the Helsinki Final Act".