Kiev Maidan activists demand to stop the truce
29 June in Kiev Maidan passed the so-called "people's assembly", which adopted an appeal to the President of Ukraine Petro Poroshenko with the requirement to introduce martial law in the country and destroy the resistance in the south-east, according to
"Vesti"
. The rally was attended by militants of the battalions "Donbass", "Dnepr" and "Aydar", who first broke through to the presidential administration.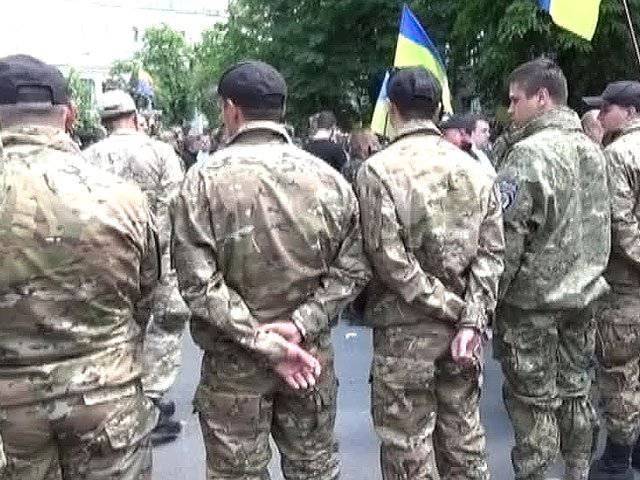 According to representatives of the battalions, they wanted to gather at the administration and see Poroshenko in the eye. However, they were not allowed to enter the building, the road was blocked by officers of the special unit of the Ministry of Internal Affairs. As a result, the rally was held at the house of the Writers Union
The protest was attended by several hundreds of Maidan activists who demanded an end to the truce in the east of Ukraine, announced before June 30, and martial law introduced in the Donbas. According to the fighters participating in the action, they are eager to open fire on the opponents of the unity of Ukraine. In addition, the representative of the battalion "Donbass" complained about the problems of supply and asked the citizens to help them with food and equipment.
First Deputy Head of the Presidential Administration Gennady Zubko, who tried to explain the position of the Kiev authorities, approached the protesters. According to him, a peaceful settlement and a cease-fire is a competent attempt to resolve the crisis situation in the Donbas.
The performance of the official protesters did not like. On the arguments about the victims among civilians, they said that there was nothing, they say, to support the militia. The protesters handed claims to the presidential administration, after which the rally ended. Most of the participants moved to the national assembly on Maidan, where they again called for the resumption of fire.