Representatives of the militia of the Luhansk People's Republic, a member of the Union of People's Republics (CHP), said that they were repelled today by an attack by units of the National Guard at one of the border crossing points. We are talking about the checkpoint "Red Partisan", which is under the complete control of the militia of the people. Reports about it
RIA News
.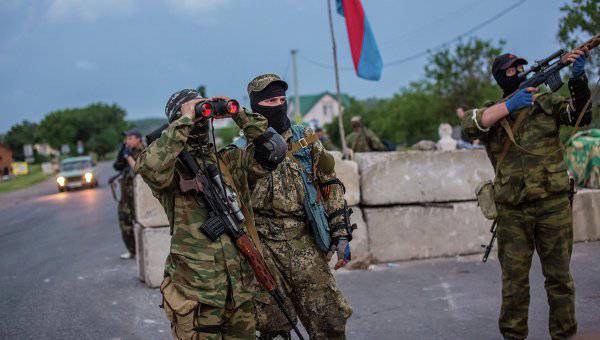 Press service of the LC:
Around 7 in the morning (8.00 Moscow time), the Ukrainian National Guard tried to storm the checkpoint "Red Partisan". The attack was able to repel.
On the eve, the National Guard under militants delivered an ultimatum to the Lugansk militia, in which it was necessary to transfer all border crossing points under their control as soon as possible. As you can see, the militia clearly did not accept the ultimatum, and adequately responded to the "guard".
Meanwhile, one of the leaders of the National Guard under the radicals Semen Semenchenko said that his battalion did not accept the extension of the truce, which President Poroshenko said. According to Semenchenko, the Donbass battalion, which he commands, requires the immediate imposition of martial law in the southeast and the cessation of the truce.
Semenchenko:
"Donbass" requires the authorities to provide it with the necessary
weapons
for the implementation of measures for the complete extermination of the invaders.
Tomorrow (Sunday, June 29) a "march" of the Donbass battalion to Kiev is scheduled in order to "look into Poroshenko's eyes".