Poroshenko ordered to extend the "truce" for another three days. Statements Glazyev
Information agencies referring to diplomatic sources report that the president of Ukraine, Petro Poroshenko, ordered an extension of the term of the "truce" for three days. The new date of the end of the "truce" is now called 30 June. Reports about it
RIA News
.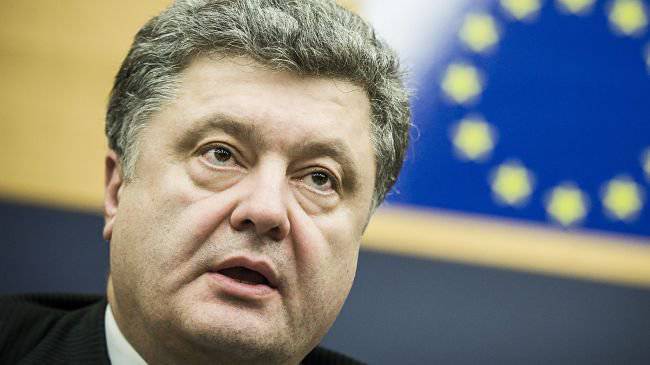 Information about the extension of the "truce", which actually has nothing to do with the real truce, came after Ukraine signed the economic part of the association agreement with the European Union.
Meanwhile, the very fact of the legitimacy of the signing of an association agreement with the EU is precisely Petro Poroshenko challenged in Russia. In particular, the adviser to the president of Russia Sergey Glazyev in an interview
with the BBC
said that Petro Poroshenko has no right to sign such documents, since de jure is not the legitimate head of Ukraine.
Sergey Glazyev:
This is the sovereign right of the country to sign agreements. However, we see that half, at least, the population of Ukraine does not want to live in association with Europe. Poroshenko has no legal basis to sign it. Yes, and Poroshenko is not legitimate. At least a quarter of the population does not see him as a legitimate president. They did not take part in the election. We communicate with him, but we communicate with him as a leader who currently leads part of the country. This is in fact, not according to the law.
Now in Ukraine we have a purely Nazi government. This Nazi government is bombarding the largest region of Ukraine.
When a BBC journalist asked Glazyev if he called Poroshenko a Nazi too, the adviser to the president of the Russian Federation answered:
Of course! After all, he supported the Nazis on Independence. I think that after the signing of the agreement with the EU, the European people will be surprised when this Nazi Frankenstein, born of European bureaucrats and politicians, knocks on the doors of European countries.

Who is a Nazi? This is not only the one who proclaims Nazi slogans ... If relatively Yatsenyuk and Poroshenko, then their coming to power has to do with the government coup that took place in Ukraine on the basis of Nazi slogans.
Glazyev's comments were commented on by the presidential press secretary, Dmitry Peskov, stating that the position of the presidential adviser is not the official position of the Kremlin.