The Taliban militants attacked the ISAF airbase (united military contingent in Afghanistan) Bagram. A convoy of cars that were moving towards the base was subjected to shelling. The mine hit a fuel truck, the flames from which spread to other cars. This is reported by the Arabic-language media.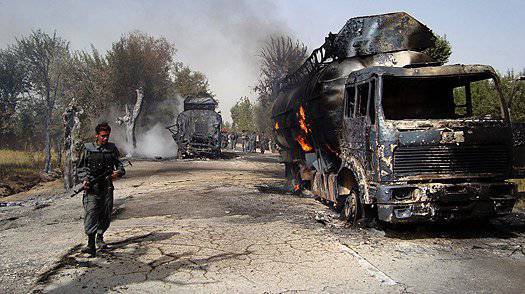 This is the second attack on NATO military columns in Afghanistan in 24 hours. The first occurred in Paktika Province, in southeastern Afghanistan. In the Urgun area, a military transport column was ambushed on the Taliban route. There are no official data on the number of casualties among the NATO soldiers.
Recall that in the 2014 year, the US president planned a full-scale withdrawal of troops from Afghanistan, but the American soldiers and other military from the ISAF contingent continue to carry out a military mission in the territory of this country.
Agency
RIA News
reports on the statements of the representative of the Afghan authorities about the pressure of NATO on the official Kabul in the interaction of Afghanistan with Russia. Deputy Foreign Minister Ershad Ahmadi says that, despite pressure from NATO countries, Kabul will actively cooperate with Russia.