Russian army will be strengthened by combat robots
Oleg Martyanov, a member of the Military Industrial Commission (MIC) under the Russian government, who heads the interdepartmental working group "Combat Robotics Laboratory", said that after 2018, military
Robots
, Said
ITAR-TASS
.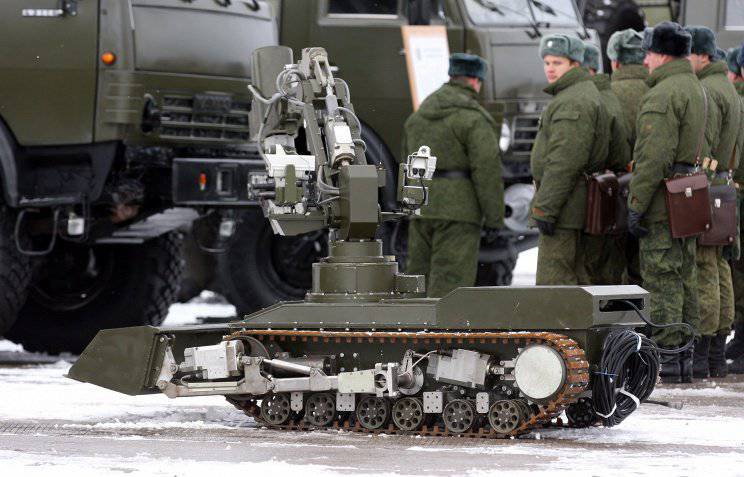 "Mass serial goods will probably be delivered to the troops after 2018. Now the process is underway, "he noted.
According to Martyanov, several interesting new products have already appeared in the field of combat robotics, but the details remain secret.
"Nobody will tell all the secrets, there is such a concept" military-technical surprise ". The appearance of some things on the battlefield should be unexpected for the enemy, and we don't want any advertisements, tactical or operational-tactical, to advertise before we apply them, "he said.
According to Martyanov, a combat robot can be created on the basis of any machine. Currently, the active development and running-in of all the necessary technologies for data transmission, response and control of the signal is underway.
He also noted that in the future for the Russian army can be created a combat robot based on the armored vehicle "Tiger", which is equipped with anti-tank missile complex "Cornet".
"The question of" disembarking "people out of it can be resolved in a fairly short time. This technique is already close to entering the troops, "said Martyanov.
According to him, in September 2014, a military-industrial conference will be held at the enterprise "Geodesy" in the Moscow region, which will be devoted to the prospects for the further development of special and military robotics.
In addition, he said that samples of robotics are already in service with the army of the Russian Federation, mainly "demining machines and fire robotics, that is, combat support equipment".