344 th center for combat use and retraining of flight personnel in Torzhok 35 years old
344th Center for combat use and retraining of flight personnel (army aviation personnel
aviation
), which is deployed in the city of Torzhok in the Tver Region, celebrates its 35th anniversary, the company's website reports
Rostekh
. During this time, the pilots have mastered many models of helicopters supplied by the Russian Defense Ministry to the Russian Helicopters holding company.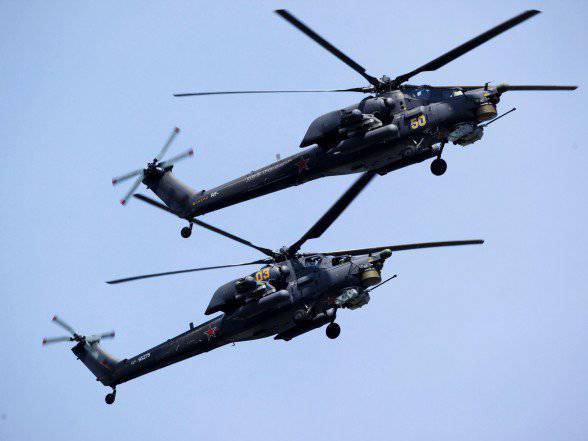 The training center trains pilots and technical personnel who master all the modifications and types of helicopters adopted by the Russian Air Force. On the basis of the center of combat use and retraining of flight personnel, pilots of the highest category are trained who receive the qualifications of "pilot-sniper" and "navigator-sniper". The center includes the Berkut aerobatic team, using the latest Mi-28H "Night Hunter" combat helicopters.
"On behalf of the holding" Helicopters of Russia "I congratulate the Center for the combat use and retraining of flight personnel with the anniversary. We very much appreciate the cooperation with the training center, which plays a key role in the introduction of the latest helicopter technology in the Russian armed forces, "Alexander Mikheyev, the general director of the Russian Helicopters holding, congratulated the center.
The personnel of the training center takes part in UN peacekeeping operations. More than 200 servicemen have been awarded the UN Medal for Strengthening Peace. Among the graduates of the center 3 Hero of Russia: Colonel Alexander Rudykh, Colonel Alexey Novikov, Major General Boris Vorobyov. He also trained 17 Honored Military Pilots of Russia, 3 Honored Military Navigator of Russia, and 50 Pilot Snipers. More 600 graduates have been awarded various medals and orders.
The 344 th center for combat use and retraining of flight personnel formed 30 June 1979 of the year. Since 15 March 2011, he is a branch of the Fourth State Center for the Re-training of Aviation Personnel and Military Tests of the Russian Ministry of Defense in Lipetsk.