Abduction of a minor streamer in Mariupol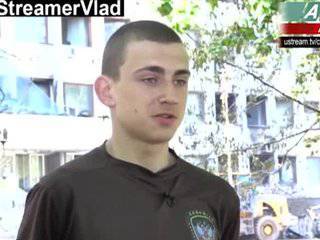 In Mariupol, a 16-old employee of the South-Eastern Front information center and AnnaNews journalist Vlad Alexandrovich were abducted, according to
"Vesti"
.
Vlad is the so-called streamer - a person organizing live broadcasts on the Internet using a mobile device. It was he who showed the whole world how 9 in May, the armored vehicles of the Ukrainian security forces fired at civilians in the center of Mariupol.
According to Vlad's friends and colleagues, the National Guard can stand behind his disappearance. In addition, they do not exclude that torture may be used against a minor journalist.
26 June, the South-Eastern Front information center organized a Skype connection with Vlad's mother, a resident of Mariupol, Elena Alexandrovich, reports
"Russian Spring"
.
Yesterday, June 25, we were in the House of Pioneers, where his sister spoke. We were together all the time, and then he said that he would go away for a couple of minutes, left all things, including the phone, bag, camera, etc., and I never saw him again. We phoned all the places and all the people who have it, but did not find it. I am very worried, help me find my son
she said.
In addition, the woman noted that cases of abduction of ordinary people in Mariupol have already occurred earlier.