Massacre and rape in Donetsk village Saurovka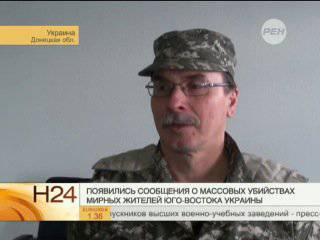 National guardsmen staged a massacre in the Donetsk village Saurovka, reports
REN TV
with reference to the headquarters of the Donetsk People's Republic. This was described by the reconnaissance militia group, which was with the raid in the village, which is still controlled by the National Guard.
"There was a real genocide in the village, all men were killed, brutally murdered, people were slaughtered by living ... women were raped. And it is considered normal for them "
Deputy I.I. told journalists Strelkova Fedor Berezin.
In the past few weeks, the National Guard has been trying to dislodge the militias from the dominant heights of Saur-Tomb, on which a military memorial of the Great Patriotic War is installed.
"All the time, their artillery and mortars are beating right along the stele. However, they cannot get any closer. Our fighters hid on the mound and around it "
notes Berezin.
According to him, the territory of the Saur-Grave forest zone is constantly "replenished with fresh dead".
"Pravoseki are not human beings not only in relation to the residents of Donbass. They also consider their own garbage. Normally, they do not bury. Do not bother. Just donate a bit of land, and all the works. In "Zelenka" is the persistent smell of carrion. Sometimes even powdered with
weapons
. Why pity? Amerytsya sponsors, so that the new will fit, al will buy from some Poles "
quotes the deputy Strelkovo group
"Reports from Strelkov Igor Ivanovich"
.
According to Berezin, the Saur-Grave mound near the village of Saurovka again "becomes a symbol of Russian prowess in the fight against fascism."
"The other day, the Natsik did not want to attack our height, and then the pravoseki from behind began to fire at their own - to whip up the attack. However, they were offended and began to shoot back. Our top pricked by this spectacle. Often such a circus. Of course, this circus is not for long. Very soon, we will unload our Natsik and on the threshold of Saur-Grave and other places. Cook white sneakers »
he writes.