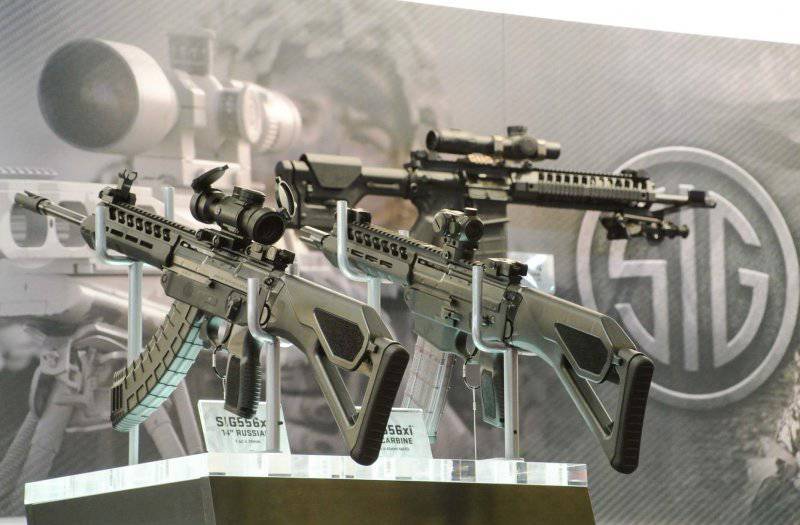 At the next EUROSATORY exhibition in Paris, SIG Sauer presented a new modular rifle. This is SIG556xi, which has already been demonstrated in a semi-automatic version at the January "SHOT Show". A month after the show, the rifle arrived at the IWA exhibition. And now - "EUROSATORY 2014" - an exhibition in which not only dozens of companies show interest, but also a whole range of state institutions that are directly related to defense, the website reports
http://www.all4shooters.com
.
The SIG556xi rifle is a successful combination of those features that are generally characteristic of the manufacturer. This is the piston system of the Kalashnikov variant, and the gas unit, which is presented with a three-position gas regulator. Such a proven combination with a set of technological innovations allow the use of a modular rifle in a variety of combat options. An important aspect is related to the fact that under SIG556xi various variants of both stores and ammunition are suitable, which allows, for example, to use ammunition captured from the enemy in battle.
The upper part of the receiver of the rifle SIG556xi is made of stainless steel, which has been specially machined. The modular principle allows the use of either 10-inch or 16-inch trunks.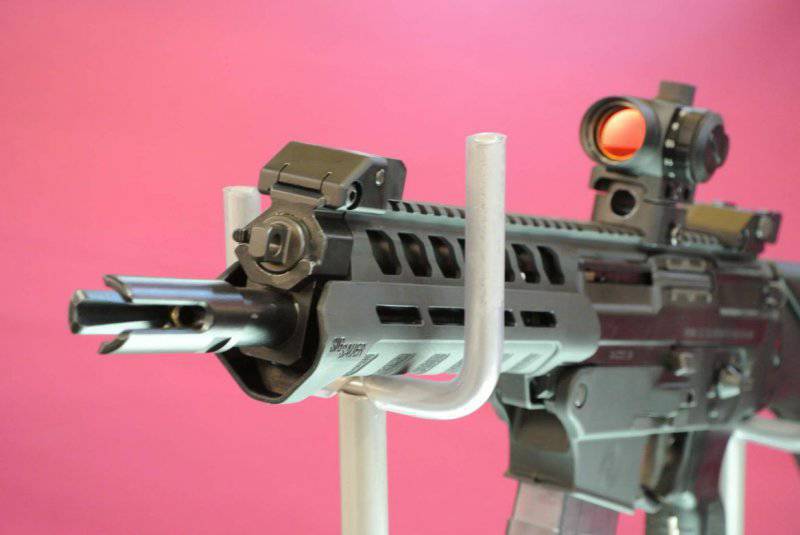 There are rifles and parts made of polymeric materials. This, for example, strips on the fore.
As variations of the material, either carbon fiber or specially treated aluminum is used. The rifle butt is made of carbon fiber. It can be foldable and telescopic, and therefore will be able to meet the needs of the most demanding shooters. Modularity
weapons
allows you to adapt SIG556xi for combat with maximum efficiency.
The SIG556xi rifle is equipped with a "native" chamber for 5.56X45mm ammunition, but the modularity of the project allows you to convert weapons for firing .300 AAC "Blackout" ammunition. This is a growing caliber developed by American engineers. What attracts this caliber attention of experts? Its main advantage is to reduce the noise of firing, for which additional attachments can be used.
The lower part of the weapon can also be replaced with a module for another store. In the layout there is the possibility of using the Russian (Soviet) store under the AK and AKM. This option may be suitable for those shooters who are accustomed to using a Kalashnikov, but want to test their strength on the new weapons of Western production. Naturally, Kalashnikov cartridges can also be used when shooting with a SIG556xi modular rifle.