Will Russia survive without Belarus?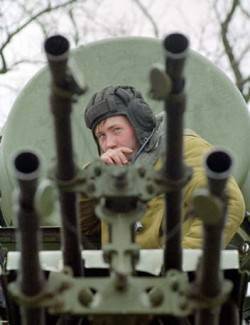 On the Belarusian territory there are our most important strategic military facilities.
Commented by military observer Sergei Mikhailov:
- Belarus is really the last frontier of our strategic defense against the West. According to analysts of the General Staff of the Armed Forces of Russia, if the tank division of a "slow" Estonia starts its turtle movement towards Moscow, we will be able to stop it only with a nuclear strike. Russia has no ordinary forces capable of resisting the movement of the Leopard armada. Only here is nuclear
weapon
we, of course, do not apply, and in a week the tanks of the independent Baltic will crawl onto the pavement of Red Square ...
Only the Belarusian army can stop this procession. Objectively, on the western borders of Russia there is a powerful "Belarusian fortress", which, as long as it is intact, will not allow even the thought of aggression against Moscow. NATO also has serious analysts, they understand that.
In addition, a number of military-technical infrastructure facilities are located on the territory of Belarus that influence the maintenance of global security in the immediate strategic interests of Moscow. Among them, the radar station near Baranavichy is a missile attack warning station. This is one, and perhaps the most important of the eight such Russian objects. The station near Baranavichy is intended for early warning of ballistic missile launches, in particular, from the territory of Germany, France, Great Britain. She put on alert in 2002-m and tracks the sky almost over the whole of Western Europe. From Soviet times, similar stations were built in Latvia, in Ukraine, in the Caucasus and near Krasnoyarsk in Russia. But: the station in Latvia was blown up, the stations near Lviv and in the Caucasus were not completed, and only Belarus agreed to allow the Space Forces of Russia to complete the station and rent it for their needs. For real pennies, it is worth saying.
Another important military facility on the territory of Belarus is the submarine control point in Vileyka. This station is designed to relay signals to Russian ships and submarines located in the Central and North Atlantic. There will be no it - and our entire strategic submarine fleet, along with the non-flying Maces, can safely lie on the bottom, he will not be able to present any threat to anyone.
The military departments of Russia and Belarus somehow agree with each other, it seems, contrary to the general line of Moscow, for purely market relations with Minsk. And it pleases, because even the term "market" itself is very, very misunderstood. Recall recent events. During the June meeting of the Russia-NATO Council, Moscow was again explained that the United States would deploy a missile defense system in Western Europe - despite all our protests and diplomatic attempts. We even agreed to some kind of joint European missile defense system, which could - theoretically - protect Russia from a possible missile strike. Only here in Brussels we spoke harshly, as with annoying beggars: the North Atlantic Alliance denied our request from the threshold to provide legally binding guarantees of non-directionality of the European missile defense system against Russia. Moscow darkly threatened with a new arms race and optimistically announced that it would continue diplomatic work on the issue of missile defense.
We do not need friends and allies, if they are not included in the number of Western countries? We do not want to help them? In vain. Washington, considering Tel Aviv its main political and military partner in the Middle East, allocates over 3 billions of dollars just to finance Israel's defense programs, and the entire aid package costs 20 billions a year. The most powerful diplomatic support of an extremely aggressive ally in money is not measured. No matter what Israel does, he is always right, confident in the United States - because he is a friend.
Belarus, unlike Israel, never thought about attacking neighbors, today we are talking about supporting the country's economy, rather than the military expansion of Minsk - but even in this case we openly recommend an "ally" - probably need quotes - to pay off debts and sell your property. The United States has, of course, other recipients of money, the territorial security of North America may not depend on these allies, but they are doing their own game in various parts of the world, the rules of which are set by Washington.
But Russia's territorial sovereignty depends to a great extent on Belarus. Now we look rather indifferently at the crisis of our fellow Slavs. One gets the impression that we are not worried about a possible opposition to pro-Western politicians who came to power in Minsk, who were counted on in Europe and the United States. We will consider them their "new defenders of the Brest Fortress" and "sentinel borders of Russia"? ..
Ctrl Enter
Noticed a mistake Highlight text and press. Ctrl + Enter