According to RIA
"News"
, the authorities of the Donetsk People's Republic declared that they were not involved in the explosions on railway lines that have occurred in the region recently.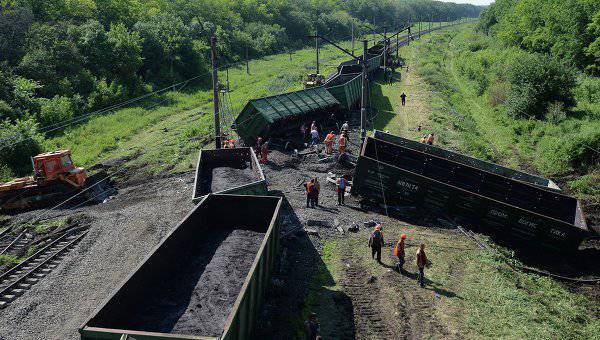 "The Ukrainian media cover these events, pointing to six cases as actions of the Donbas militia. The DPR is categorically unprofitable any damage on the railways, therefore it is obvious that the militia has nothing to do with the incident, "said the Deputy Minister of Transport of the DPR Semen Kuzmenko.
According to him, the Ukrainian media claim that sabotage was carried out on sections of the railway from Ukraine. In this case, the responsibility lies with the militias.
"In fact, the explosions occurred in the Russian direction, and, according to available information, residents of the Dnipropetrovsk region were in the sabotage groups," Kuzmenko said.
According to the deputy minister, people did not suffer during these diversions only by lucky luck. In particular, on the site in the area of ​​the station Debaltsevo, an explosion thundered over the passenger train that had just passed. Kuzmenko also noted that sabotage is specifically carried out in areas difficult to recover.
In recent days, several explosions have occurred on the sections of the Donetsk Railway, which have disrupted the train schedule. According to the press service of "Ukrzaliznytsia", at the moment the movement is restored on seven stages, which suffered from sabotage. The railway bridge on the Dnieper railway in the Zaporizhia region was also damaged.