According to Deputy Prime Minister Dmitry Rogozin, he bought for Russian journalists covering the events in Ukraine, helmets and body armor for their own savings. This newspaper reports
"Sight"
.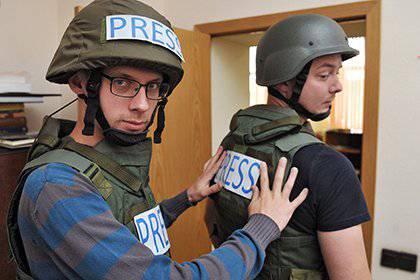 "I bought bronchikas and helmets for my personal savings. 50 kits. I told Russian journalists, who were risking their lives, to the forefront of the truth, "Rogozin told Facebook.
Earlier in
Kommersant
it was reported that the Russian Military-Industrial Commission will issue to journalists, going to the hot spots of Ukraine, helmets and body armor.
"By the decision of the Deputy Prime Minister, Chairman of the Military Industrial Commission Dmitry O. Rogozin, individual journalists will be given sets of personal protective equipment, including body armor and a helmet, to journalists covering the hot spots, adding that the sets will be given to leading Russian television channels, news agencies and national newspapers.
It is worth recalling that recently the crew of Channel One came under fire from mortars near Lugansk. 17 Junior VGTRK correspondent Igor Korneliuk died on the operating table, who was seriously injured. Later it became known that video engineer Anton Voloshin died on the same day.
Russian President Vladimir Putin said in a telephone conversation with President of Ukraine Petro Poroshenko about the need to ensure the safety of correspondents. In addition, the Russian Foreign Ministry demanded an international investigation into the death of journalists near Lugansk.