When it comes to service pistols that are highly reliable, first of all professional shooters recall Glock pistols. This name has already become largely decisive for the practicality and effectiveness of such
weapons
like a gun. At the "EUROSATORY 2014" exhibition, the Austrian company presented its latest developments. Visitors were able to see the models of pistols, which are made for the needs of the army, police and special forces, the website reports
all4shooters.com
.
Gathered at the exhibition center in Paris, experts were able to appreciate the Glock 41 pistol .45 ACP caliber, as well as the equally interesting Glock 42 caliber .380 ACP.
The 42 th Glock is a subcompact small arms, which was introduced in Paris after its sales started in the European Union and North America. 41-th "Glock" also got to the exhibition after the start of sales. Today, this approach to business will not surprise anyone. The weapon has a world name, and therefore new models can be purchased before the moment they are officially presented at the international level.
The Glock 41 Pistol is a truly professional weapon. Its barrel has a polygonal cut, which has a positive effect on the accuracy of shooting with a specially selected total length of about 226 mm. Today, sales of the 41 "Glock" are at the level of sports weapons.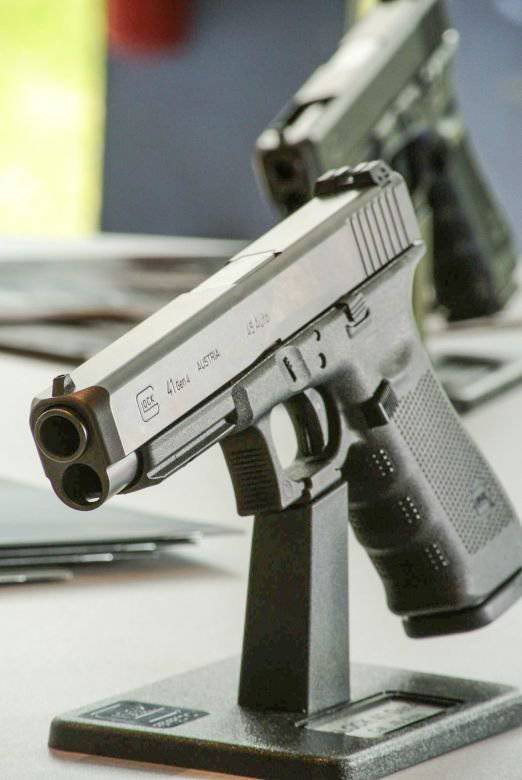 The gun is powered through an 13-cartridge detachable magazine, made of a special polymer that is highly durable. The store has a two-row structure.
The presence of the Picatinny class MIL-STD-1913 bar allows you to use this gun with various accessories, without which no professional shooter can do today (whether it be an athlete, a military man, or a police officer). Glock 41 is equipped with a frame version Gen.4, with the back of the handle of the weapon can be changed.
The gun was appreciated by experts who know a lot about weapons for performing special operations. Such a weapon has outstanding accuracy if it is in the hands of a professional. Using a Glock 41 pistol in combat allows the shooter to be mobile and to conduct aimed fire from different positions. Such a pistol is perfect for carrying out operations to free hostages, and therefore it causes great interest among representatives of special services.
If we talk about the 42-m Glock, then this is the smallest and thinnest gun company from Austria. For him, created a special single-row magazine for six rounds. The main "mission" of such a pistol is to be found at the right moment almost imperceptibly. His wearing is a pattern of stealth. The total length of the Glock 42 is only about 151 mm with a width of 24 mm. The mass of the gun with a full ammunition does not exceed 400 g. Toy? In appearance, size and weight - yes, but in terms of effectiveness, this is a full-fledged military weapon!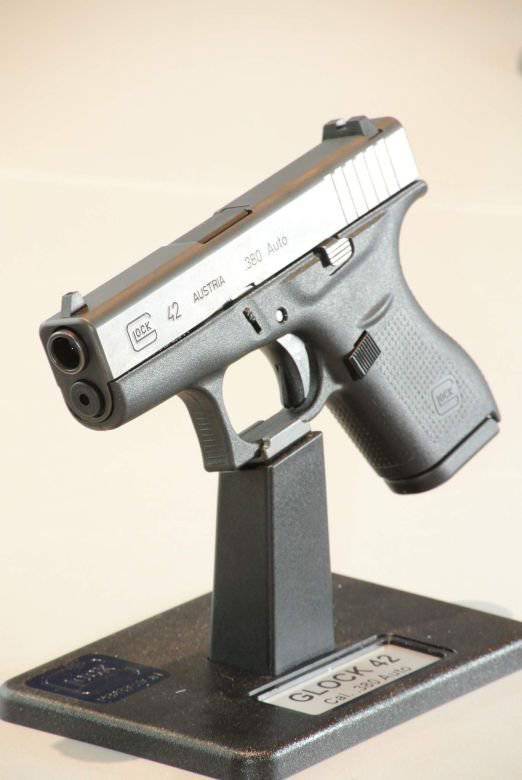 Glock 42 does not have a Picatinny rail and interchangeable backs of the handle, but the engineers have provided for it a notch on the covers of the Gen. handle. 4 and beaver tail extension.
The use of such a gun can be carried out as a backup weapon, as well as an effective means of self-defense. In case of danger, such a "baby" saves lives.