Radical Lyashko opposes truce in the southeast
Hardly having washed away from the green, the radical Ukrainian deputy Lyashko plunged into political life Square and declared that he had information about the possible continuation of the truce (at the initiative of Petro Poroshenko) after 27 June. About this Lyashko wrote on his page in
Facebook
. The radical MP expressed his discontent:
According to my information, Poroshenko is going to continue the suspension of the anti-terrorist operation in order to "find ways of peaceful settlement of the situation in the east of Ukraine." During the first "truce", the terrorists shot down our helicopter, killed about a dozen people and announced the creation of a confederation. During the second "truce" they, obviously, will have time to hold elections and join Russia. After that, you can continue the ATO.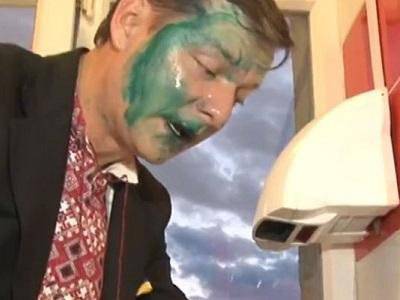 Lyashko is not the only representative of Ukrainian politics who advocates the need to continue the bloody operation in the southeast. About the same spoke and oligarch Kolomoisky. Both Lyashko and Kolomoisky in the LPR and the DPR have their own illegal armed groups made up of motley Maidan radicals.
On his Facebook page, Lyashko said that Oleg Tsarev, who the radical calls "policeman", could come to Kiev after consultations in Donetsk.
Lyashko:
We feed it. As long as he wanders between Moscow and the Donbas, the border illegally crosses at the sites controlled by terrorists. As soon as there is an opportunity - we will immediately take it.
Who are these "we"? - white and fluffy Lyashko does not specify.