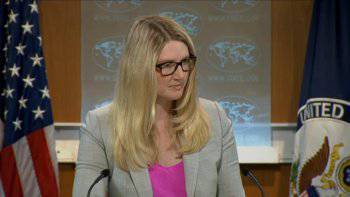 According to the
"RT in Russian"
, during a regular press briefing, State Department spokeswoman Marie Harf said the United States supports a "federated" Ukraine. It is worth noting that this contradicts the previously expressed position of Washington that Ukraine should remain a unitary state and not give autonomy to the regions in the east of the country.
Marie Harf commented on the situation in Iraq, stating that the United States supports "a single federal Iraq", and to the clarifying question whether Washington adheres to a similar position with regard to Ukraine, she replied: "Yes, it is."
The US State Department did not give any comments on this statement, so it is not clear whether this is a reservation or the United States decided to change its position with regard to Ukraine.
Earlier, the State Department has repeatedly spoken about the support of a united and indivisible Ukraine, ignoring the way in which the Kiev authorities achieve this. Even numerous reports of civilian deaths did not convince the United States of the excessive use of force by Kiev.
In addition, at the briefing, Harf welcomed the proposal of Russian President Vladimir Putin to cancel the decision of the Federation Council on the possibility of using the armed forces in the east of Ukraine.
"By itself, this is a good step in the right direction," a US State Department spokeswoman said.