Ukrainian Acting Secretary of Defense asked for alms from the United States
American delegations in Ukraine are becoming almost everyday occurrences. Today, a US State Department official arrived to instruct Acting Defense Minister Mikhail Koval. About the meeting of Koval with the US Assistant Secretary of State for Security Affairs Gregory Kozner tells
broker
Ministry of Defense of Ukraine.
As reported, during the meeting, issues of cooperation between Kiev and Washington in the context of the current military-political situation in Ukraine, as well as the development of bilateral relations in the defense sphere were discussed.
At the same time, the meeting itself was more like Koval's report before Kozner with elements of begging typical of the Ukrainian authorities. And about. The Minister of Defense of Ukraine - the one who announced the creation of filtration camps and special operations forces (SS) in Ukraine - presented a detailed report on the "achievements" of the Armed Forces of Ukraine during the operation in the south-east.
Koval:
At present, units of the Armed Forces of Ukraine, together with the State Border Service, have virtually closed the state border in eastern Ukraine. Along the border, groups of our troops have been created, the aim of which is to repel a possible armed aggression from land, air and water. At the same time, work continues on improving the management and logistics system of the Armed Forces of Ukraine.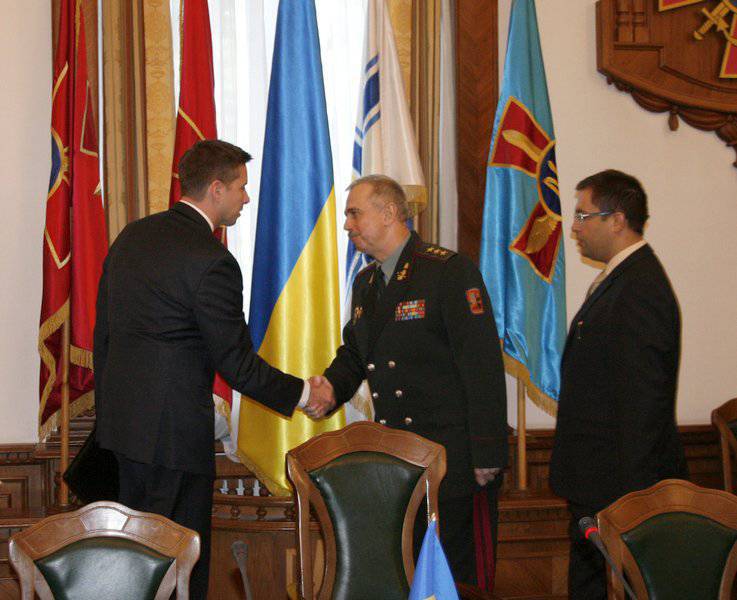 And about. the minister told Kozner what ukroarmia lacks for success in the "ATO", namely: personal protective equipment, modern communication systems, detection equipment.
Today, the leadership of the state and the Armed Forces of Ukraine are doing everything to resolve these issues independently. So, recently adopted a new bulletproof vest of domestic production. It is reliable, inexpensive and thoroughly tested. The Ministry of Defense of Ukraine has ordered 28 thousands of such body armor, 14 thousand have already arrived and sent to the troops.

Recall that a few days before Kozner arrived in Ukraine, a scandal erupted in the country due to the fact that the troops instead of the "factory" body armor enter counterfeit products, which are easily penetrated by ammunition of almost any caliber. Initially, it was the cheapness of body armor and alerted the military, then "testing" in the course of the "ATO" directly showed that body armor does not meet accepted standards of protection.
Kozner:
Over the past months, servicemen of the Armed Forces of Ukraine have demonstrated resilience, great restraint, as well as clear attempts to prevent the escalation of violence in troubled regions of the country. This deserves not only respect, but also the full support that the United States and all the leading nations of the world are ready to provide to Ukraine. I am confident that the state sovereignty of Ukraine will be protected.
Hundreds of killed civilians, including dozens of children, are the "great endurance" of the Ukrainian army and preventing the escalation of violence ...
If the words "comprehensive support" are expressed, then the Ukrainian army will soon begin to receive, in addition to American suhpayks, a loan from the United States with equipment and technical equipment.