The US State Department denied reports of the Russian Federation about numerous refugees from Ukraine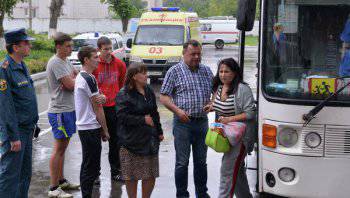 According to the official representative of the US State Department Marie Harf, reports of the Russian side about the large number of refugees leaving the territory of Ukraine are not true, reports RIA
"News"
.
According to the Federal Migration Service of Russia, during the political crisis in Ukraine more than 400 thousands of refugees arrived on the territory of the Russian Federation. Their number has greatly increased since the beginning of June, when the escalation of the situation in the east of the country began. Every day thousands of people leave the territory of Ukraine.
"This is not true," Harf replied to a question about numerous refugees.
According to Harf, Washington assesses the truce in the east of Ukraine from the positive side, but is awaiting confirmation of statements by actions.
In addition, Marie Harf again accused Russia of supplying militias
tanks
and multiple launch rocket systems, however, could not provide evidence that the technology did cross the border.
"We see evidence of continued Russian military support for the separatists and a new build-up of Russian forces near the border," said Harf.
Harf again referred to the data published by the US State Department more than a week ago, that the Russian Federation allegedly transferred to the Ukrainian rebels tanks and multiple launch rocket systems BM-21 "Grad". In addition, she noted that OSCE representatives reported on an unknown military convoy of tanks and armored personnel carriers, which, according to eyewitnesses, was heading for Lugansk.
To the question about the evidence of the crossing of the Ukrainian border with Russian military equipment, Harf replied: "I will be happy to check and clarify the latest data."