Polish Foreign Minister: Relations with the United States are useless and even harmful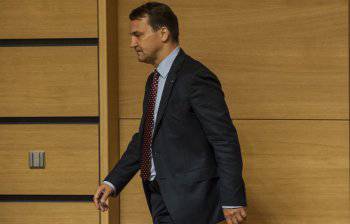 22 June in the magazine "Vprost" published excerpts from statements by Polish Foreign Minister Radoslaw Sikorski, in which he called relations with the United States useless and even harmful for Poland, as they create a "false sense of security" and provoke conflicts with France, Germany and Russia, reports
ITAR-TASS
.
Statements by the head of the Polish diplomatic department commented on the Russian Foreign Ministry, noting that they speak of Sikorsky's "political realism".
"The essence of Sikorsky's statements speaks about his political realism. And the form in the form of using strong expressions in relation to the United States is probably a kind of response from Poland to insulting and rude remarks (US Assistant Secretary of State Victoria) Nuland addressed to the European Union, "the ministry's press service noted.
Meanwhile, the US State Department declined to comment on the statements of the minister.
"We will not comment on this," - said the official representative of the Ministry of Marie Harf.
According to the representative of the State Department, she is not going to talk about the publication, which is based on the illegal record of the negotiations, but in any case, all the statements made are not true.
"Whoever declares this is not true," Harf said, adding that relations between Washington and Warsaw are "extremely strong" and they "strengthened even more during the crisis in Ukraine." According to her, the relationship is "based on common interests and common values."